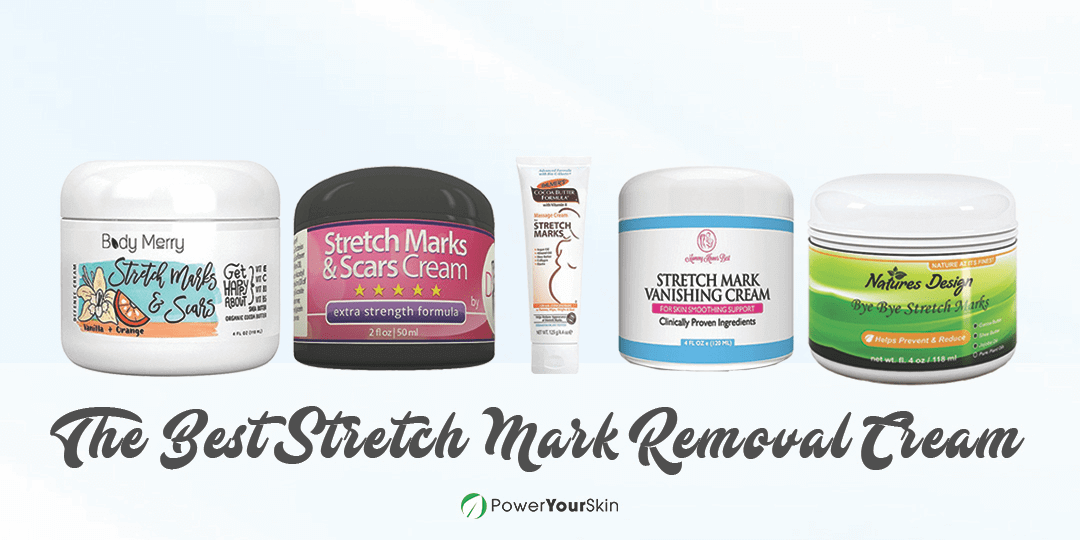 The Best Stretch Mark Removal Cream – 2018 Reviews & Top Picks
Even though there is really nothing to be ashamed of with these marks, nevertheless their presence affects our confidence.
We have carefully searched for the best stretch mark removal creams in the market.
The creams we have reviewed were selected because of their active ingredients, hydration properties, and efficacy.
We know it might be difficult to eradicate stretch marks entirely by the use of creams.
However, the products we have in our roundup can be effective in reducing the visibility of these unpleasant guests.
A Quick Overview: Our Top Picks for the Best Stretch Mark Removal Cream
First on our roster is the Body Merry Stretch Marks & Scars Defense Cream. Rich in ultra-hydrating ingredients, this cream can slowly but visibly lighten the appearance of stretch marks. Our favorite thing about it is the content of elements that can inhibit dryness and itchiness.
Second on our list is the naturally made Diva Fit & Sexy Stretch Mark and Scar Removal Cream. It boasts of its aromatherapeutic components from different extracts. Aside from that, it contains Vitamin E which can boost skin's vitality.
Down further in this roundup is the Nature's Design Bye Bye Stretch Marks. We appreciated that it could remove existing stretch marks and can even prevent new ones from coming out. We were also delighted with the essential ingredients such as Coconut Oil, Rosehip Seed Oil, and Jojoba Oil.
Next in this roster is the Mommy Knows Best Stretch Mark Removal Vanishing Cream. It makes use of ingredients that are known to boost collagen and elastin. Moreover, it can give a refreshing feeling after applying it due to the vanilla mint smell.
Another great product in our selection is the Palmer's Cocoa Butter Formula Massage Cream for Stretch Marks. This cream has an excellent blend of Vitamin E, Shea Butter, and Cocoa Butter. We also enjoyed the mild therapeutic scent.
Before we delve into the best stretch marks removal creams, first, let's discuss more on the possible causes and treatments.
What are Stretch Marks?
Scientifically known as Striae, stretch marks can be found on the stomach, arms, thighs, breasts, and buttocks. They occur in lines or patterns.
Sometimes, you see them in purplish, reddish, or grayish shades. Also, they have a different texture than the normal skin as you feel as if there are rough bumps.
There are various causes for stretch marks to appear, and they are all related to natural body changes. When someone reaches puberty, alternations in the hormones take place.
If you try to lose weight or build up your body, the skin may also lose its shape. These marks also appear during or after pregnancy.
During some naturally occurring body transitions, the skin stretches and consequently shreds out.
That particular stretching is mainly because of an increase in a hormone called Cortisone which is secreted by the adrenal glands.
When there is a high level of Cortisone in the skin, the cells weaken or lose their elasticity. In the case that elasticity breaks down, the healing process of the skin is also affected.
How Can we Treat Stretch Marks?
Think of stretched skin much like a rubber band that has been pulled. The skin might not be able to come back to its original shape.
Stretch marks can be healed and can disappear over time. It is quite difficult to eliminate them completely, however, certain methods could be followed to reduce their visibility.
To stop the appearance of these unpleasant signs, hydrate yourself. Consuming plenty of water can make the skin firm and supple.
When the body is properly hydrated, the elasticity increases and as such the skin cells can still cope with any scarring.
Another method is to make use of essential oils such as Rosehip, Cocoa Butter, Aloe Vera, Coconut, Lavender and much more. These oils have the cogency of restoring skin cells.
If you want to remedy your stretch marks by natural ways, you may want to follow certain recipes.
For example, you may mix and cook even parts of Cocoa Butter, freshly squeezed lemon, and Lavender Oil. You may also try to blend coconut oil, frankincense, and lavender.
Another way to lighten stretch marks is to exfoliate. It is of vital importance to get rid of the dead skin cells on the upper layer of the skin.​
Some homemade scrubs that you can prepare may include sugar/salt, potato juice, and lemon juice.
Next, you may want to apply stretch mark removal creams on the affected skin areas. That is what we call a proper topical treatment.
They might not work quickly to make the marks magically disappear, but, gradually they can help to lighten up their appearance and visibility.
Of course, you can choose to go for a medical treatment that may include a laser, supplements, and carboxytherapy.
We hope you now understand clearly what causes stretch marks and how they can be treated. You need not let them get in the way of your poise and confidence.
Let's head on to our roundup of the best choices for this category.
Product Reviews: Our Top 5 Picks for the Best Stretch Mark Removal Cream
The first product to head our selection of the best stretch mark removal creams is the Body Merry Stretch Marks & Scars Defense Cream.
After trying it out, we concluded that it did defend our skin with its abundance of oils. Safflower Seed Oil may help to inhibit dryness by preserving water and moisture in the skin.
On the other hand, Sweet Orange Essential Oil, aids in brightening the skin.
It has the power of increasing blood circulation and facilitating collagen growth. Shea Butter is known for its ability to heal skin damage quickly.
Similarly, Cocoa Butter can repair dry skin. These two butter contents are both ultra-hydrating.
This cream also has Kosher Vegetable Glycerin which can be useful in alleviating dryness and making it easy for oils to seep through the skin.
Although the smell of the cream is a bit overpowering, we liked that it provided us with deep nourishment.
It depends on how sensitive is your nose whether you will fall in love with the fragrance, or you will have the complete opposite opinion.
Our second top pick is the Diva Fit & Sexy Stretch Mark and Scar Removal Cream. With diligent use, we noticed that our stretch marks are becoming less visible than before.
Upon testing it, we liked its consistency. It also has very light and pleasant fragrance.
It boasts of essential compounds such as Honeysuckle Flower Extract, Aloe Vera, Sunflower Oil, Vitamin C and Vitamin E.
Honeysuckle Flower Extract is known for its soothing and blemish removal abilities. Likewise, Aloe Vera contains Aloin and Gibberellins that can help in healing tears on the skin.
On the other side, Sunflower Oil is celebrated for its efficacy in preventing scarring.
The vitamins, fatty acids and antioxidants found in this oil are responsible for rejuvenating the skin cells.
The inclusion of Vitamin C in this cream makes it possible to promote collagen growth and improves hydration.
Vitamin E is reliable in combating free radicals. Oxidative stress is amongst the leading causes for swift crumpling of the skin.
We've discussed a lot before deciding to put this cream on our third position of the best stretch mark removal creams.
That's because we were pleased with the changes in the appearance of our stretch marks.
It was easy to lather it on our skin, and there was no weird color or smell. We love that it is not greasy despite the abundance in oil and butter contents.
A known deep-seated moisturizer, Olive Oil can help to cleanse and hydrate simultaneously.
That's possible because the essential fatty acids can bind to the excessive oils to provide us with a smooth skin without clogging the pores.
Jojoba Oil is celebrated for its ability to lock in moisture. It can seep into the skin effortlessly.
Mango Butter is rich in Vitamin C that can tighten the skin. It can soothe chapped areas and provide a youthful look.
Another aspect that we like about this cream is the inclusion of Rosehip Seed Oil. This ingredient is prized for its potency in reducing scars and fine lines.
The vanishing cream from Mommy Knows Best contains Vitamin E, Retinol, Green Bean Seed, Panthenol, and Benzoic Acid.
Retinol is known for its cogency to accelerate the generation of skin cells. It peels of dead ones and helps to speed up cell reproduction.
Consequently, the collagen is boosted, too. At the same time, elastin can be increased. It makes use of Green Bean Seeds which are rich in Vitamins E and C.
Furthermore, it contains Panthenol which is responsible for seeping through the skin, bringing moisture and healing to even the lowest layers.
We loved how this cream was very hydrating to the areas where we have stretch marks. We consistently rubbed it for more than four weeks.
What we noticed is that our marks became less bumpy and less noticeable. Despite being creamy, the consistency was not irritating or greasy.
It even has an after effect of tightening the skin. We enjoyed the beautiful vanilla mint smell that felt pleasant and relaxing.
The last product that made it to our list is the Palmer's Cocoa Butter Formula Massage Cream for Stretch Marks.
While we have been using this cream, we found that it can work great for a massage session. That was very convenient for applying it where we had the most stretch marks.
We enjoyed how it got absorbed easily into the skin. The cream worked gradually, and we saw the results over time.
We approved its content of Palm Oil, Sweet Almond Oil, Kernel Oil, Hydrolyzed Collagen and Hydrolyzed Elastin.
The presence of both these hydrolyzed elements can help to lighten stretch marks. We all know that our body begins to decrease its ability to generate collagen and elastin as we age.
Hydrolyzed Collagen and Hydrolyzed Elastin can speed the production of the essential elements that maintain the skin's firmness.
They are needed to combat aging and wrinkling of the skin. When the skin is pliant to free radicals, it becomes vulnerable to crumbling.
Kernel Oil in this product is beneficial because it can provide both healing and deep moisturization. It is high in Vitamin A and E which are both fighters of free radicals.
The Bottom Line
We have presented to you our selection of the best stretch mark removal creams. In conclusion, the Body Merry Stretch Marks & Scars Defense Cream remains to be the top pick on our list.
With its opulence in natural oils and butter, we enjoyed a soft and supple skin. Most importantly, we notice it can gradually reduce the appearance of stretch marks.
We love Cocoa Butter which is celebrated for its ability to reach deep skin tissues and heal them.
However, we share a love for each of the four options we have selected.
We have strived to comply them in a manner that can be of help for different people to target their specific requirements.
We can feel confident when we don't need to hide certain parts of our body because there are unwanted marks.
Finally, we hope that we have shed some light on which cream would work best for you.