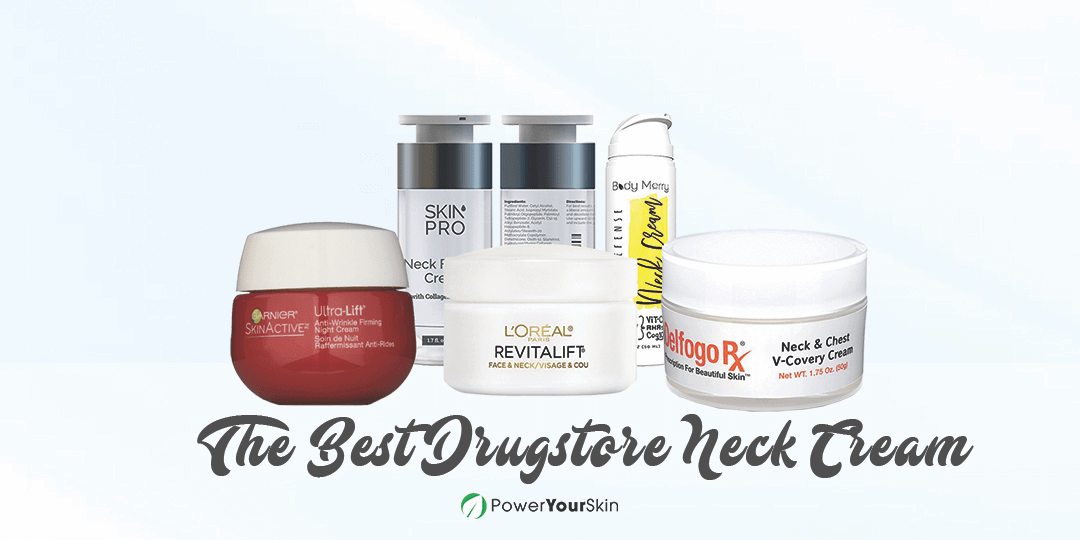 The Best Drugstore Neck Cream – 2018 Reviews & Top Picks
As we age, the fragile area around the neck develops wrinkles, and the muscles' strength weakens.
Thus, we lose elasticity which causes the sagging of the skin. That can gradually turn into the so-called turkey neck.
Applying a suitable cream can ease and delay the symptoms and signs related to this particular condition.
To maintain the health of your skin, we would like to present our top 5 choices for the best drugstore neck creams.
Quick Overview: Our Top Picks of the Best Drugstore Neck Creams
The Age Defense Neck Cream by Body Merry ranks first on our list. We love the high concentration of Vitamin C, which has antioxidant properties to assist in the firming of the skin. It can help to prevent the visible signs of aging and rejuvenate the area of the neck.
Our second choice for this roundup is the L'Oreal Paris Revitalift Anti-Wrinkle and Firming Face & Neck Cream. What we like so much is that it works in two directions. First, it targets on improving the skin's texture. Subsequently, it can aid in delivering essential hydration.
The product that follows on our list is the Garnier SkinActive Ultra-Lift Anti- Wrinkle Firming Night Cream. The very thing to catch our attention is the retinol base of this product. That is a form of Vitamin A which serves to enhance the elasticity of the skin. Meanwhile, Soybean Protein contains phytoestrogens which are closely related to the reduction of fine lines and wrinkles.
The SkinPro Neck Firming Cream is our fourth choice. We were delighted with the inclusion of Hydrolyzed Marine Collagen and Hydrolyzed Rice Protein. These can work simultaneously to increase the skin's elasticity by attracting and then trapping in moisture to stimulate the pH balance.
Last but the least in this roundup is the Delfogo RX Neck & Chest V-Covery Cream. We approve the combination of Cyclopentasiloxane, Dimethicone, and Hyaluronic Acid. Their action is synergistic, as Hyaluronic Acid can help to retain moisture. Afterward, Cyclopentasiloxane and Dimethicone aid in creating a thin protective barrier that stops water loss.
What is a "Turkey Neck" and What Causes it?
A turkey neck is a sagging skin similar to that of a turkey. Nobody is prevented from developing such a condition since it inevitably happens as we grow old.
It is a result of different factors that include the natural aging process or tremendous fluctuation in weight.
Some might be inherited, so to say we would have to blame our genetics.
If turkey neck runs in the family, then its members will be more prone to develop that issue after their late 20s.
On the other hand, most women who have a turkey neck will notice it upon reaching mid-40s or even later.
The leading cause of the sagging skin in that area is a loss of elasticity and the development of platysmal bands.
These are the thin bands of our muscles in the neck. They tend to become visible as we age. Improper body posture and life regimen can also lead to the so-called turkey neck.
Another cause is the exposure to the UV rays of the sun. That radiation is much to blame for destroying the natural elasticity of the skin.
Other causes include dehydration, smoking, consuming much alcohol, poor diet, using wrong skin care products, and after pregnancy via cesarean section.
How to Treat and Prevent Turkey Neck?
Experts firmly state that this lax skin can be influenced and the symptoms can be reduced subsequently. One of the possible ways to do that is exercise.
You can conduct one effortless movement anywhere and anytime. Merely turn your head upwards, as if you stare at the ceiling.
Breathe easily and don't tighten the skin too much. You have to feel relaxed in the position.
Repeat this for up to four sessions for as long as you feel comfortable performing the posture but not more than a minute.
Anyway, you might still choose to consult a professional who can guide you in the best exercises for your particular state.
Another possible and efficient treatment is the Botox injection. That could help by plumping the skin and minimizing the appearance of the folds on the neck.
Others may even opt for plastic surgery.
That could provide lasting results and can be especially beneficial if the condition has become too severe to handle only with the help of cosmetics or muscle stimulation.
However, our expert advice includes observing and taking precaution measurements to avoid turning a mild turkey neck into a clinical state issue.
Fortunately, there are available neck creams which can aid in both treating and preventing this skin condition.
What to Consider in Choosing a Neck Cream?
As we mentioned above, the stage of skin sagging is of extreme significance when it comes to choosing the right product.
In case, it is not yet so severe, you could look for products that contain Vitamin C. Apart from being a multi-tasking skin care element, it can influence the antioxidant activity.
Other options include potent compounds like Glycolic Acid and Retinol, which is a technical name for Vitamin A.
Glycolic Acid has many benefits from enhancing the skin to moisturizing it. It is a powder that is made of colorless crystals and is also odorless.
It is often used to treat signs of aging such as wrinkles and fine lines, scarring, and discoloration.
The list of ingredients to target on skin's firmness and elasticity include Collagen derivatives, Hyaluronic Acid, Grape Seed Oil, Caffeine, and Peptides.
Of course, not all of these can work equally for different skin types.
Further on our article, we have tried to compile among the best products which can be beneficial to various skin types.
Product Reviews: Our Top Five Choices for the Best Drugstore Neck Cream
Our top choice for our roundup is the Age Defense Neck Cream by Body Merry.
We were impressed with the potent combination of ingredients. These include a high concentration of Vitamin C, Lactic acid, Glycolic Acid, and CoQ10.
Cocoa Butter, Green Tea, Jojoba Oil, Hyaluronic Acid, Rosehip Oil, Lemongrass Oil, and Avocado Oil can all contribute to the skin's rejuvenation.
Vitamin C boasts of antioxidant properties that can help to make the skin firm.
It aids in smoothing the skin, evening out the skin tone, and shielding from the impacts of pollution.
Glycolic acid is a compound derived from cane sugar. It could penetrate the skin deeply with its tiny size.
Thus, it can target on treating acne, fine lines, blackheads, oiliness, and dullness.
However, Glycolic Acid can be counterproductive for sensitive skin due to its astringent power. It can lead to peeling, redness, and irritation.
Thankfully, the natural Avocado and Rosehip Oil can help to lessen the adverse effect, related to sensitivity due to their soothing and healing properties.
The next product on this roundup of the best drugstore neck creams is the L'Oreal Paris Revitalift Anti-Wrinkle and Firming Face & Neck Cream.
Cyclohexasiloxane acts as a skin conditioning agent and emollient. It is a silicone that once applied to the skin could create a silky and slippery feeling to the touch.
That particular compound serves as a mild water repellent by shaping a protective barrier on the skin. Thus, it could also help to fill in wrinkles and fine lines.
Meanwhile, Glycerin could act as a cleanser, toner, emollient, humectant, and moisturizer on the skin.
It could also treat acne and other skin conditions related to infections. It can make the skin soft and supple to touch.
Shorea Robusta is one of the ingredients that seem to capture our attention. It comes from the Sal Tree which grows predominantly in India.
It has excellent antimicrobial properties to expedite the healing process.
Thus, it can be suitable to use on both sensitive and acne-prone skin due to its anti-inflammatory potency and the capability to help prevent breakouts.
The Garnier SkinActive Ultra-Lift Anti-Wrinkle Firming Night Cream is our third choice for this roundup.
At first, we were delighted to find a product that can be used to work overnight.
That can allow all the ingredients to perform their beneficial action entirely without being interrupted or mixed with other compounds found in makeup.
Hydrolyzed Rice Protein and Soybean Protein helps to smoothen the skin's texture.
Rice Protein is rich in both anionic and cationic amino acids. It can be gentle enough to use on all skin types.
It is known to have anti-irritant properties and ability to retain moisture without feeling greasy or sticky.
Contrary, the feeling it imparts can be described as dry, though this must not be mistaken with over-drying.
Isopropyl Isostearate serves as a skin conditioning agent, humectant, binder, and an emollient.
It can help to lubricate the surface of the skin leaving it soft and silky.
After testing this cream, we concluded that it might be better suited for dry, normal, and sensitive skin, rather than oily or combination.
Our fourth choice for this list of the best drugstore neck creams is the SkinPro Neck Firming Cream, which possesses a retinol base.
Also known as Vitamin A, it can help to increase the fibroblasts. These are cells which are responsible for forming the tissue that keeps the skin firm and healthy.
Argireline has the potency to combat some of the most challenging wrinkles to address.
These are the ones caused by repeated facial movements and those subject to regular exposure to environmental toxins.
Its action consists of relaxing the muscles on the face and neck. Meanwhile, Matrixyl 3000 is a relatively new ingredient to the skin care industry.
It is a synergistic combination of two peptides, namely palmitoyl tetrapeptide-7, and palmitoyl oligopeptide.
They aim at remodeling the skin's structural framework by stimulating both the collagen synthesis and replenishment.
However, as with every other product, the experience can vary. For best results, we encourage you to follow the directions very strictly.
Doing so allowed us to find a significant difference in its action.
Finally, we have on our list the Delfogo RX Neck & Chest V-Covery Cream. Serilesine is a type of hexapeptide-3, which is a chain of six amino acids.
These can augment the cell activity by interacting with specific molecules resulting to the rebuilding of collagen.
It is also found to reduce fine lines and the size of pores. Nonetheless, Pure Hyaluronic Acid can assist in making the skin supple and refined.
This acid increases the collagen and retains the moisture of the skin. Cetearyl alcohol is a type of fatty alcohol that can benefit the skin in more than one way.
Its function is enhancing the effect of other ingredients.
Thus, Cetearyl alcohol can support both Hyaluronic Acid, and Acetyl Dipeptide-13, among others, then speed up their penetration and boost the absorption.
Acetyl Dipeptide-13 stimulates the synthesis of Collagen Type 1. Meanwhile, it halts the breakdown of elastin.
Overall, we were invigorated after our experience with the product. Though due to its concentrated formulation and ingredients, we advise you to proceed very carefully.
That is especially in the case you have sensitive skin. We recommend you to observe your skin for any abnormal reactions.
The Bottom Line
The skin on the neck can often be neglected. And all until things get too complicated to be reversed easily.
However, we can still do much for both preventing and treating this delicate zone. That includes exercise, observation, and of course, suitable cosmetics.
For its efficiency to maintain the youthful looks of the skin, the Age Defense Neck Cream by Body Merry tops our list of the best drugstore neck cream.
Upon testing it, we found out it could prevent folds and creases. And we believe that is mainly due to the blend of active ingredients.
It makes use of four robust acids in combination with natural oils which are packed with vitamins to rejuvenate the skin.
All of the products that found their ways to our list have been thoroughly evaluated. We have judged them accordingly for your convenience.
Share with us your impressions of this journey towards a clean, soft and radiant skin.