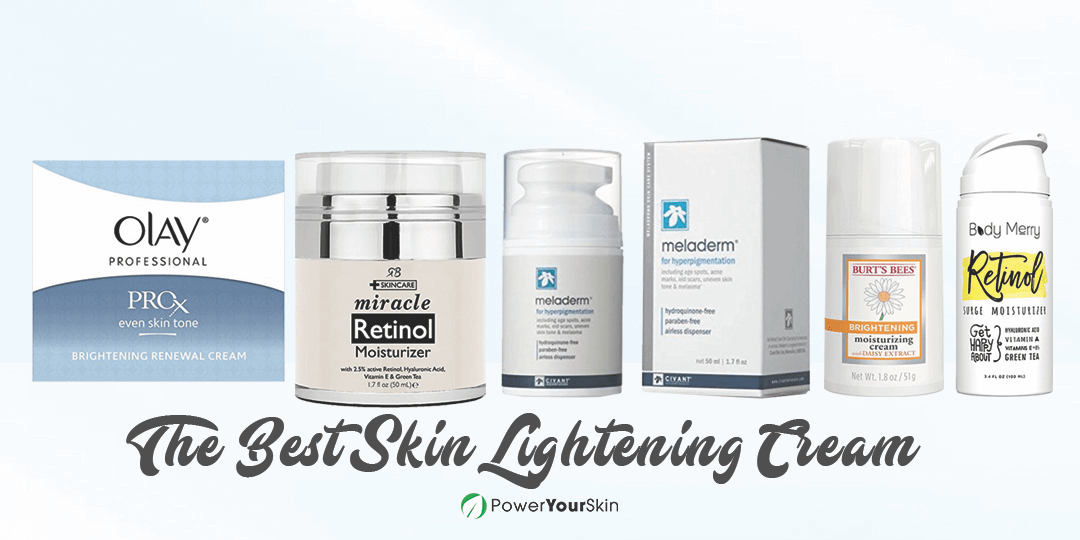 The Best Skin Lightening Cream – 2018 Reviews & Top Picks
While we all wish to achieve an even and flawless complexion, this can be a hard mission. Dark spots, flaky patches, acne scars and overproduction of melanin can be difficult to handle.
Nevertheless, science and beauty care industry have combined their efforts by creating amazing topical products, which can provide you with radiant skin.
So if you have the patience and discipline to follow a skin lightening regimen, you can attain amazing results in the comfort of your own home.
And as we follow our commitment to sharing the knowledge and understanding of different ingredients, we have gathered a list of the five top products for skin lightening.
Quick Overview: Our Top Picks for the Best Skin Lightening Cream
The product that heads our list is the Radha Beauty Retinol Moisturizer. We were more than impressed with the potent formulation that includes Retinol, Citric Acid, and Green Tea to help us lighten our skin. We also enjoyed how it makes a suitable makeup base.
The second best pick on our selection is the Retinol Surge Moisturizer. With the added Vitamins E and B5, it can contribute to a revitalizing and repair the skin. We also consider it appropriate for targeting acne prone conditions.
Coming in at number three is Burt's Bees Brightening Even Skin Tone Moisturizing Cream. Among our favorite things about this product is that it boasts of natural compounds to help us achieve the desired balanced skin tone. The Pearl Powder added to the formulation is amongst the most ancient ways to reveal a bright complexion.
Our fourth choice for this roundup is the Meladerm 1.7 oz Skin Lightening/Whitening Cream. The fusion of three robust skin lightening ingredients such as Kojic Acid, Lactic Acid, and Licorice has caught our attention. With consistent use, this cream can help you to improve your skin tone in the long term.
And finally, we have the Olay ProX Even Skin Tone Brightening Renewal Moisturizer. This became our last choice just because it lacks natural ingredients. Nevertheless, we were impressed with its efficiency to help soften and smooth the skin.
What Leads to Uneven Skin Tone?
Among the leading causes for uneven skin tone are sun spots, hyperpigmentation, discoloration due to acne scars and hormone disruptions.
Even though we are well-informed on the possible side effects of sun exposure, it is often too late until we fully realize the problem.
That is because unpleasant blotchiness on the skin tends to occur long after sunbathing.
It may take years for people to start noticing how the light affects their appearance. The results frequently reveal much later, rather than showing up immediately.
So the efforts that you put in combating the negative impact of the sun have to be continuous and all-year-round.
We advise you to never skip on the sunscreen, and that is also during your everyday life. Many people tend to forget about the importance of protecting the skin from the free radical damage.
If you are fighting with acne, it is almost impossible to avoid the adverse effect of scars and blemishes.
For those of you who have to cope with acne conditions, it is imperative to find a suitable product that targets on diminishing the discoloration.
Women also tend to develop dark spots because of different hormonal pills, pregnancy or leading a stressful life.
Indeed, hormones need to be handled to avoid further problems, but both topical and oral precautions should be implied.
Not to mention that living in the big city is related to inevitable pollution that gets in contact with our skin.
And all of these factors can deprive us of the joy of wearing our skin with confidence.
The good news it that there can be a solution for every problem with the development of science and technology.
Ingredients in Skin Lightening Creams
First of all, you have to adopt a skin care regimen that is entirely targeted on combating the signs of discoloration.
Many ingredients can turn helpful, but you have to be on the watch for possible negative effects as well.
Some of these compounds are very powerful and can cause reactions such as redness, stinging, burning or dryness.
1. Hydroquinone
For example, Hydroquinone has been the recent leader in skin-whitening. However, it still needs TFA approval.
We encourage you to stick with more natural options, especially if you have a skin, different from normal.
2. Extracts and Acids
Botanicals, such as Arnica Flower and Green Tea extract carry the potency for becoming a resolution. They can act to speed up cell turnover and help to break down melanin.
Acids, such as Glycolic, Hydroxy, Salicylic, and Kojic can enhance the skin's clarity while targeting to buffer the appearance of fine lines.
3. Vitamin C
You can find them in many face washes, soaps or concentrated in the form of serum. Among our favorite ingredients when it comes to brightening the complexion is Vitamin C.
This natural treasure known for its antioxidant properties can work to lighten hyper pigmentation while preventing further spots.
For conceiving the best results, you can use Vitamin C both orally and topically. You can include more citrus fruits to your diet, choose it in the form of a food supplement or search for it on the labels of cosmetics.
4. Retinoids
Retinoids are functional and structural analogs of Vitamin A that can address acne, photodamage and post inflammatory pigmentation.
They can also act to enhance the penetration of other lightening agents.
However, if you have a naturally dark complexion, retinoids can be counterproductive for you. Instead of becoming whiter, your skin can get hyperpigmented.
And even though this effect is reversible, we highly recommend that you opt for some other active ingredient to achieve the desired results.
Now that we have shared with you our expert tips and advice, we are eager to present you the five top products that made it to our list.
Product Reviews: Our Top Five Choices of the Best Skin Lightening Creams
The absolute winner for our compilation of the best skin lightening creams is the Radha Beauty Retinol Moisturizer.
Research carried in 2003 in the Memorial Medical Center studied the skin lightening effect of Green Tea.
The conclusion was that Green Tea indeed turned out to help with the lightening, as well as to improve the overall appearance of patients' complexion.
Citric Acid is well known for its abilities to brighten the skin. It has strong astringent powers that help to speed new cell turnover.
Meanwhile, it serves to slough off the already dead cells on the surface. Together with Retinol, the formulation aims to trigger cell division on the skin, producing a more rapid exfoliation.
As a bonus, retinol can thicken the epidermis by encouraging collagen production. However, retinol carries the potential of being irritating.
So when choosing a product, we encourage you to start with the lowest concentrated or use only a small amount at the beginning of your therapy.
We also advise you to follow it up with a sunscreen, as its active ingredients can increase the photosensitivity and lead to redness.
The second product that made its way to our list is the Retinol Surge Moisturizer. It boasts of quite similar ingredients to those of our winner for this category.
However, the results that we had after testing it were slightly different. This one seemed to take more time to absorb.
That might be partially due to the Palm Oil to its content. It is naturally rich in nutrients and vitamins that can nourish and repair the skin.
The thing is that it takes some more time to penetrate fully. Nevertheless, it can contribute to moisturizing, improving the blood circulation and lightening the appearance of dark spots.
It is considered to have a perfect balance between monounsaturated and saturated fatty acids. And we know that this is crucial when it comes to maintaining healthy skin.
Surprisingly, Shea Butter turns out to be helpful in skin lightening as well.
If we follow the logic on how it treats acne scars, redness, and blemishes, it can also be suitable for an evening out of the skin tone.
However, if you have dry skin, this might not be the best product to fit your needs.
The third spot for the best skin lightening cream goes to the Burt's Bees Brightening Even Skin Tone Moisturizing Cream.
We recommend this product as particularly beneficial to people with dry skin. That's because it's targeted at providing sufficient moisturizing.
And even though this could be great, it could be too much for people who have to fight with excess sebum.
We were impressed by the Pearl Powder added to its content. This spectacular powder was documented to have been used by the ancient Chinese and Ayurvedic medicine.
China's only female emperor regularly used crushed pearls on her skin. When she ascended the throne as a 65 years old, her beauty became legendary.
Her skin was said to be as radiant as that of any young woman.
Indeed, Pearl Powder can stimulate the fibroblasts, which are responsible for regenerating collagen and thus improving the skin tone.
The fourth product on our roundup is the Meladerm 1.7 oz Skin Lightening/Whitening Cream.
We like how it combines natural plant derived extracts and potent acids for helping us achieve a bright and flawless complexion.
Alpha Arbutin is the scientific name for Bearberry extract. Though its strong action is compared to that of Hydroquinone, it has shown to be significantly less toxic, yet very effective.
Licorice Extract is another great option for skin bleaching. The active ingredient concerning the whitening aspect of the plant is Liquiritin.
A concentration of 20% Liquiritin has shown to provide good to excellent results during a test, performed by patients with melasma and hyperpigmentation.
Between 70 and 90 % of the patients declared it as productive with little to no side effects and only minor irritations.
As to Kojic Acid, it is yet a by-product of the rice fermentation. It works by penetrating the upper layers and inhibiting the production of melanin.
The last product that gained a spot in our selection is the Olay ProX Even Skin Tone Brightening Renewal Moisturizer.
Niacinamide is an active form of niacin, also known as Vitamin B3. It can be found in many root vegetables and yeasts.
It participates in numerous enzymatic reactions and acts much like antioxidants. One of its advantages is that it stays stable and unaffected by acids, light, and moisture.
It can help to improve the barrier function and appearance of photoaged facial skin. It is believed to influence the cutaneous pigmentation by down-regulating the transfer of melanosomes.
Dimethicone can help to keep the moisture locked into the skin. It creates a subtle film to further protect the skin from environmental stressors.
However, if you tend to use products that contain Dimethicone on a regular basis, this can affect your skin's breathability.
Also, the Polyethylene that is added to the formulation is a type of plastic, and we all know that these may carry a range of adverse effects if used continually.
The Bottom Line
The product that deserved its crown for the best skin lightening cream is the Radha Beauty Retinol Moisturizer.
We were delighted by the results that this light, yet effective hydrant can provide.
Its formulation boasts a fusion of natural ingredients that can help to lighten the skin gently.It includes Green Tea Extract, Citric Acid, and Retinol which are known for being natural alternatives to harsh bleaching agents.
With the added Hyaluronic Acid and Vegetable Glycerin, that cream became our favorite to address the signs of aging and contribute to smoothing the skin.
While we have evaluated this one as our top choice, all of the products that paved their path to our list can help for a variety of skin issues and conditions.
We believe we can be of your assistance for making the most informed pick for yourself.