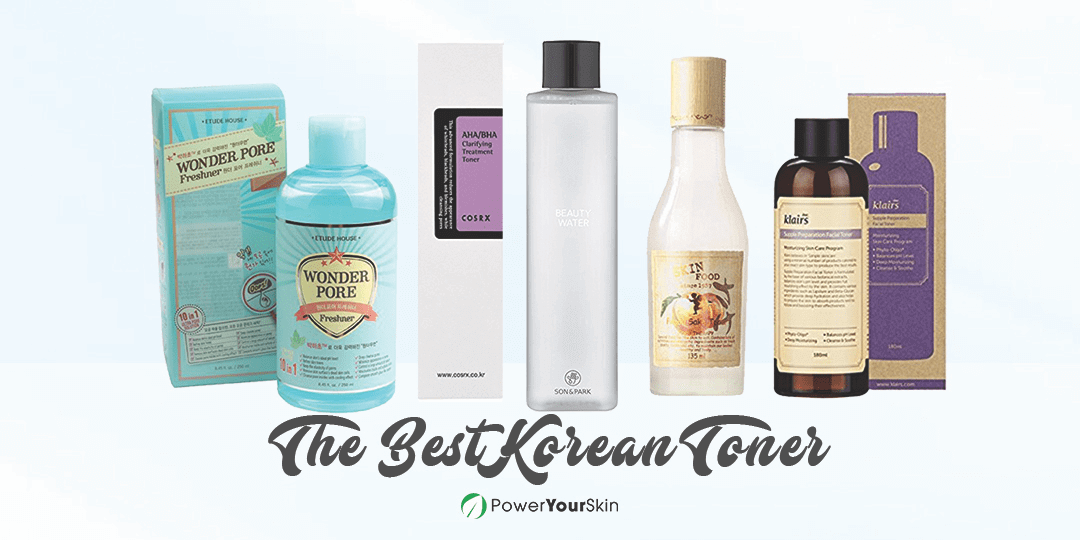 The Best Korean Toner – 2018 Reviews & Top Picks
The international community has caught the Korean fever by storm.
Not only are people now highly interested in Korean food and pop culture, but we are also curious about how they attain their poreless, dewy skin.
Well, one of the ways to get their skin bright and glowing is by using high-quality toners that are readily available in their country. Luckily, we can also get our hands on them too.
We want to assist you to sort through the maze of Korean products. That's why we've picked out the top five best Korean toners that can help you on your way to looking like a K-Pop celebrity.
Quick Overview: Our Top Picks for the Best Korean Toner
The Son & Park Beauty Water is our top choice in our hand-picked list of the best Korean toners. We like that this multi-purpose product can also function as a cleansing water. It became this list's landslide winner being 100% natural. We also appreciate that it can be gentle enough even for sensitive skin.
Our second choice is the Skin Food Peach Sake Toner. Another gentle toner, we love that the vitamin-enriched formula can be a match for most skin types, including oily and sensitive skin. At first, we were worried about the existence of rice sake, but it works as a brightener.
Third, we present the Klairs Supple Preparation Facial Toner. It is free from parabens and alcohol, which is a huge plus, especially for those with extremely sensitive skin. It cleanses and balances the pH level. Later in the article, we'll explain why a proper pH is more important than you probably think.
The Etude House 10-in-1 Wonder Pore Freshener is the fourth toner that made it to our list. We were impressed how it can provide ten solutions to common skin problems, such as dry skin, excess sebum, large pores, and more. We loved the content including Dandelion Leaf Extract, Rice Bran Extract, Hydrolyzed Hyaluronic Acid, and Lemon Fruit Extract, among others.
Lastly, we chose the COSRX AHA/BHA Clarifying Treatment Toner. That product stands out because of its formula which includes AHA (Alpha Hydroxy Acid) and BHA (Beta Hydroxy Acid). Both of them are known for their gentle exfoliating properties.
Let's Talk About Korean Skincare
You've probably heard of the famous 10-step Korean skincare regimen. If not, then let us enlighten you because their method (while admittedly lengthy) actually works.
Look at the poreless, dewy, glowing, and blindingly clear skin of your favorite Korean idols. Who wouldn't want that? We surely do, so we had to test their skin care program out for ourselves.
1. Pre-Cleanse Prep
Before you grab your favorite cleanser, the first step is to prep the skin. That is also known as the first half of the "Double Cleanse" routine.
Grab a nutrient-enriched towelette or an oil-based makeup remover.
That is done to remove the makeup without drying out the skin. Good cleansing oils remove impurities, hydrate the surface, and draw out excess sebum.
2. Cleanse Part Two
Next step is to use a cleanser, or what we commonly refer to as "facial wash." Typically, they choose a foamy cleanser that is easy on the skin but effectively gets rid of the dirt.
Be sure to pick one that is full of natural ingredients. Also, do not aggressively rub the skin. Instead, work a lather in gentle, circular motions.
3. Exfoliate
For this step, focus on trouble-making areas of your face. We mean the ones that are particularly prone to dirt, clogged pores, oil, and sweat.
Most likely, these are the nose and cheeks.
By making sure that every inch of your face and neck is free from dirt, you are creating a great base for the rest of the skincare steps.
4. Toner
Finally, we arrive at the toning stage. Sometimes, toners are referred to as "refreshers."
Using a clarifying toner is the fourth cleansing step. Although, you may be used to the Western type of toner that is packed with alcohols and chemicals.
What makes Korean toners stand out is their formula. They are gentle and moisturizing, instead of harsh and drying.
This step is important to rebalance your skin's pH while getting rid of any leftover dirt and sebum.
5. Essence
The moisturizing half of this 10-step routine starts with the essence. The terms may get confusing at this stage but stay with us.
It is a concentrate that is full of organic extracts, vitamins, and nutrients.
Sometimes, it comes in a mist form or a liquid concentrate that you can spread all over to prep your skin for the next steps.
6. Ampoule
Ampoules are an ever more concentrated, condensed version of an essence. These are sometimes known as "serums."
This step targets specific problems on the skin, such as signs of aging, dull complexion, dry skin, uneven skin tone, and more.
It takes only a few drops on your face and neck.
7. Sheet Masks and Patches
Sheet masks and patches are extremely cheap in Korea. If you visit this country, you'll find that they just give them away at traditional shopping streets.
Experts recommend using a sheet mask two to three times a week to maximize the effects and reap the benefits of their watery essences.
8. Eye Cream
The skin around the eyes is extremely delicate. It requires extra care and moisture to prevent the formation of wrinkles, puffiness, fine lines, and dark circles.
With this, it's best to apply a lot of cream and not skimp on the product. After all, your eyes will thank you for years ahead.
9. Emulsion
Emulsions are what we refer to as "facial moisturizer," except they are lightweight. We recommend you to massage the formula gently into your skin to restore its moisture.
Be careful not to rub it in too much, as it will seep through the skin anyway.
10. Sleeping Pack or Sunscreen
That is a richer moisturizing cream that you apply to provide a second layer of hydration.
The thick consistency allows the hydration to last all night, so that you wake up with a plump, glowing face.
Product Reviews: Our Top 5 Picks for the Best Korean Toner
We have chosen the Son & Park Beauty Water as the top pick for the best Korean toners. We have to admit that at first, we were fooled by the water-like appearance of the product.
However, it packs a ton of natural ingredients, and we find the consistency lightweight, yet efficient.
That multi-purpose cleanser can work as a toner, makeup remover, and hydrating refresher. It reminds much of a micellar water, except it is focused more on removing dirt and makeup.
Both Willow Bark Extract (which contains salicylic acid) and Papaya Extract work as gentle exfoliants that can get rid of dead skin cells.
Lavender and Rose Water are both effective anti-inflammatory ingredients that can soothe the skin, diminish acne, and help manage Rosacea.
It functioned equally well as a makeup remover, toner, cleanser, and exfoliator. We were glad not to experience irritation, even though we have sensitive skin.
We noticed a mild scent, but it quickly went away.
However, we also noticed that it contains some mild alcohol. For those with extremely sensitive skin, we recommend a patch test first.
The product that has spotted our second place is the Skin Food Peach Sake Toner.
After further research, we found that sake (rice wine) has been used ever since by Geishas in Japan.
They would add glasses of sake to their bath water because it made their skin soft and glowing.
Sake is also found to clear the skin, increase blood flow, tighten pores, and control excess oil. During its fermentation, rice wine yields kojic acid which can help to lighten the complexion.
The sake-making process also uses yeast which is packed with amino acids that can improve collagen production.
Meanwhile, peaches have vitamins, such as Vitamins A and C. They are full of antioxidants that can protect the skin from free radicals.
Furthermore, peaches can help to prevent acne, repair scars, improve skin tone, and skin firmness.
This toner also contains Soybean Extracts, Licorice Root Extracts, and Chamomile Extracts.
They can serve to protect, hydrate, soothe, and improve the skin and its texture. We appreciate the strong antibacterial and anti-inflammatory properties.
We also appreciate that it can be gentle to sensitive skin, yet strong enough to clear makeup, remove excess dirt and oil, and hydrate simultaneously.
Our third choice, the Klairs Supple Preparation Facial Toner, contains no alcohol and parabens which can make it great for all skin types.
Licorice Extract contains powerful antioxidants that can protect your skin from free radical damage. This ingredient may also help to minimize dark circles and age spots.
Licorice has Licochalcone which can assist with excess sebum production. On the other hand, Aloe Vera Extract can deeply hydrate the skin. It is also rich in antioxidants and has anti-inflammatory properties.
We applied it religiously day and night for weeks, and we were delighted to see the difference. The gentle formula effectively got rid of remaining dirt and oil.
We noticed some fragrance, but it was extremely mild and was gone in seconds. It also absorbs fast and leaves the skin feeling soft and moisturized.
One thing we took note of was that it contains Lavender and Lemon Extracts. Despite their possible benefits, they can irritate those with extremely sensitive skin or skin issues, like Rosacea.
The product that made it to our fourth place of the best Korean toners is the Etude House 10-in-1 Wonder Pore Freshener.
We found out that it is a part of an entire "Wonder Pore" line which aims to minimize and diminish pores.
It utilizes Uncaria Gambir Extract, Hinoki Cypress Leaf Extract, Indian Lotus Root Extract, and much more. We love that this toner is packed with natural ingredients.
Some of the skin issues that this toner can address include clogged pores, excess sebum production, pH imbalance, large pores, and lack of elasticity.
We tested it out, along with the rest of the products in the line (essence, emulsion, etc.), and we were delighted with the results.
While our pores were still noticeable, the difference in size was evident.
As fans of Western toners, we were surprised to experience a massive difference in feel. This toner did not sting at all, and it did not cause the skin to turn red, dry out, or flare up.
The last but not the least in our roster is the COSRX AHA/BHA Clarifying Treatment Toner.
It differs from the rest of the refreshers in our list because it contains BHA (Beta Hydroxy Acids) and AHA (Alpha Hydroxy Acids). They aim to get rid of dead skin cells to reveal a more youthful glow.
When you hear the word "acid", you may be cautious about trying it out. However, the AHAs and BHAs found in this toner are naturally-sourced.
Its AHAs come from the Pyrus Malus Apple Fruit Water, while the BHAs are derived from White Willow Bark Water.
When blended, these acids can fight off whiteheads, blackheads, and other blemishes to clear out the skin. They can also moisturize and aid in improving the skin's suppleness.
The lightweight formula is also fragrance-free.
We would recommend this one for most skin types. Anyway, for those with sensitive skin that flares up easily, this toner may be too strong due to the acids in its content.
The Bottom Line
In many ways, Korean skincare products are different from Western skincare products.
For one, they focus on extracting benefits from natural ingredients, instead of piling on tons of harsh chemicals.
While we may be used to three to four steps in our daily regimen, they undergo ten steps to achieve their clear, glowing skin.
After evaluating from a bunch of products, the Son & Park Beauty Water has become our favorite one of the best Korean toners.
This multi-tasking cleansing water quickly removes makeup, dirt, and oil, but aside from that, it also works as an exfoliator.
We also particularly like its mild scent and its creative, unique blend of natural ingredients that work well together.
All the products that made it to our list were carefully assessed and evaluated. We were on the watch for effectiveness, gentleness, nourishing ingredients and overall skin feeling after use.