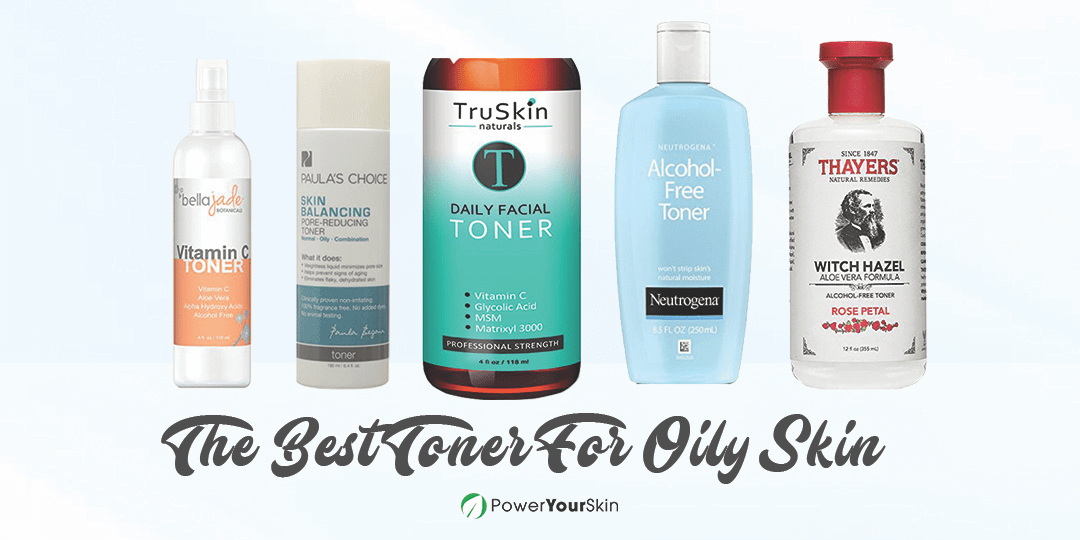 The Best Toner For Oily Skin – 2018 Reviews & Top Picks
Oily skin can get in the way of enjoying long lasting makeup as it would tend to cake after a few hours because of the excess sebum and oil.
It can be a tad difficult to handle but especially during summer when oil and sweat tend to mix, and your pores start to enlarge.
And if you are experiencing all of these, we can help to guide you and get through this.
We have listed and tested our products to evaluate their ability in reducing oil with continued use.
Quick Overview: Our Top Picks for the Best Toners For Oily Skin
Our top best pick would be the Thayers Alcohol-Free Rose Petal Witch Hazel with Aloe Vera. We love how this toner can help in the cleansing of the skin by wiping off the excess sebum, oil, and dirt. It may also contribute to minimizing the pores on the face to further reduce oil production or dirt from getting in them.
The Neutrogena Alcohol And Oil-Free Toner is our second best choice. It can assist for the conditioning of our skin without stripping off its natural moisture. We liked that it is alcohol-free so we did not experience dryness or a stinging sensation.
Coming on third of our list is the Daily Facial Super Toner for All Skin Types. We like that this toner can be suitable for all skin types including oily skin. It can address sun damage, enlarged pores, excessive oil, and uneven skin tone. We enjoyed how it hydrated our skins to promote a radiant appearance.
The fourth best pick is the Vitamin C Facial Toner Spray. Since it is infused with natural ingredients, it can be beneficial for cleansing the face from dirt and oil that accumulate through the day. We also appreciate that it comes in a spray container for an easy and convenient application.
Our last best pick would be the Paula's Choice Skin Balancing Pore-Reducing Toner with Antioxidants for Large Pores and Oily Skin. We were delighted with its lightweight formula that refreshes and moisturizes the skin at the same time. Just as well, it may help to balance out the skin tone.
What Causes Oily Skin?
Usually, acne-prone skin tends to be oily, but that's not the only reason. At times, it's just enlarged pores accompanied with whiteheads and blackheads or one of the two.
Dermatologists explain that oily skin is caused by a 'male' hormone called Dihydrotestosterone or DHT. It triggers the production of sebum. And yes, this hormone exists in everyone. Indeed, it plays a huge role in the production of sebum and oil in the skin.
Entering puberty is a playground for these hormones as everything is off balanced. But it can lead to many connected issues during the adulthood and maturity.
Other factors that increase hormonal disruptions are stress, the menstrual cycle, taking pills, and of course lifestyle and diet.
Experts also recommend not to use harsh chemicals to combat oily skin as this could further damage it.
The skin only gets oily due to the dirt and sebum trapped in the pores which can easily be cleaned with a healthy regimen.
The acne-prone skin, on the other hand, has skin cells that clump all together and clog pores.
You can find more about oily skin here.
How to Take Care of Oily Skin
The first thing to consider when taking care of oily skin is to assess things carefully and to understand what can work in your situation. A lot of people may have oily skin but what suits them may not do the same for you. Once you get into terms with this, you can start assessing your beauty regimen.
We recommend the following steps when it comes to your daily routine. Then you can use the products that work well for you and your skin.
1. Wash and Cleanse Your Skin
Washing your skin would, of course, be the top most priority but do not over-wash it. That can only lead to stripping off the natural moisture.
You can use a cleanser that is appropriate for your skin type. Remember that the first step is to remove the dirt and sebum on your face physically.
You may wash and cleanse your face up to twice or thrice a day.
2. Do Not Skip The Toner
We recommend using toners for oily skin as there are a lot of benefits that you can gain.
Various toners which are suitable for different skin types so make sure you are using one that is tailored for your particular condition.
Choose products that contain Witch Hazel, Glycolic acid, and Salicylic acid as they are among the best to reduce oil production.​
Try to find something that does not completely dry your face as over-drying will only produce more oils as compensation.
3. Exfoliate
Exfoliating your skin helps to eliminate the dead skin cells that linger on the surface. It also gets rid of the excess gunk along with it.
This will help your face to become radiant and brighter looking. Other than a beauty regimen, it is also reasonable to remember the following:
4. Use Blotting Paper Instead Of Powder
The forehead, T-zone, and chin are usually the oiliest areas on the face, and our usual reaction is to dab it with powder which is a big no-no.
Dabbing powder on oily skin can actually worsen it and can cause pores to get clogged due to the sebum and powder mixing into a paste.
5. Treat Your Skin
Masks are a great way to help reduce greasiness. Volcanic Clay, Charcoal, and Mud masks work great on oily skin types as they draw in dirt and sebum.
Though masks can be more time-consuming, this is the exact reason behind their long-term effects. By letting their ingredients act deeply in the face, you can enjoy a healthier skin.
6. Use Non-comedogenic Products
We recommend using products that do not clog pores or go cakey after a while. That's in terms to avoid the formation of blemishes. It is best to allow your skin to breathe under makeup.
Product Reviews: Our Top 5 Picks for the Best Toners for Oily Skin
Our number one pick is the Thayers Alcohol-Free Rose Petal Witch Hazel with Aloe vera.
We liked how it does not sting the skin after application. It can help to remove the excess makeup, dirt, and oil way down to the pores.
With continued use, this product can also minimize the appearance of pores.
It contains Aloe Vera that can aid to keep the skin moisturized and Vitamin E that can contribute to a natural looking glow.
What we also liked is that it has a mild rose scent which is not bothersome. It comes in different fragrances, such as cucumber and lavender.
It can help to reduce dark pimple marks, get rid of acne, and even skin tone. We found this multitasking approach a great advantage.
You can also use this toner as preparation before putting on makeup. Thus, it could hold up long with a less chance of becoming cakey or oily.
The only thing that we did not like is that the skin may need some added moisture as the Aloe Vera does not really carry well.
It could be drying for some. To avoid this, we recommend pairing it with a moisturizer.
We find that the second product on our list can be especially beneficial for oily and combination skin. It conditions well and may help to remove excess dirt and sebum build-up.
We enjoyed a revitalizing effect after applying it.
It has an alcohol-free formula, so it is less likely to dry your skin or cause a burning sensation after use.
We were delighted how the product absorbed well and left us with a fresh after wash feeling.
Furthermore, we were impressed how the product did not irritate our skin but instead reached deep down to cleanse even on hard to reach dirt.
It is also mildly scented. We noticed that the fragrance went away after a few minutes.
What we did not like about the product is that it doesn't boast of natural compounds, unlike the first one that heads our list.
Some of the ingredients may irritate sensitive skin or lead to adverse reactions.
The third product on our roundup of the best toners for oily skin is the Daily Facial Super Toner.
It combines Witch Hazel, Aloe Vera, and Vitamin C. We were impressed by the Gingko Biloba Extract, Elder Flower Extract, and Ginseng Extract.
They strongly amplify the power of the formulation. Furthermore, there were no harsh or strong chemicals that can irritate the skin.
With continued use of this product, we noticed that it could help diminish the signs of aging on your skin.
What we also liked is that it does not only aim to remove dirt and oil. It can contribute to balancing out the skin.
Vitamin C and Glycolic Acid help to reduce blemishes and to control oil production. We appreciated the hypoallergenic formulation that can be gentle to use even on sensitive skin.
The only thing that we did not like when we used the product is that it has an odd scent to it.
The scent does linger for a while before it truly disappears, so we do not recommend it for people who are sensitive to smell.
Our fourth position is spotted by the Vitamin C Facial Toner Spray.
It contains natural ingredients that can help to keep the skin healthy. With White Willow Bark extract and Tea tree oil, we enjoyed a deep cleansing of the pores.
These can assist in avoiding further pimple formation. The toner may also serve to brighten the face with the help of Bilberry extract, Orange Peel, Lemon Peel, and Cranberry.
What we liked about using it is that it does not sting the skin, so we find it quite gentle.
You may choose to apply it to prep your face before putting on makeup as it does not seem to cause aggravation.
However, the strong astringents might lead to irritation for those who have sensitive skin.
Regardless if you have oily, combination or normal skin type, it may still be too harsh for some. At least this can be avoided if you just choose to use it not more than twice a week.
The last top pick for the best toners for oily skin has a lightweight formula that helps to refresh and hydrate the skin after every use.
It also contains Niacinamide which is an ingredient that helps improve the appearance of large pores on the face.
After testing it, we noticed that it does well in hydrating. Some toners can impart dryness or flakiness, but we were glad not to see such issues with this one.
We were also pleasantly surprised how it can help to remove redness and irritation on the skin which is a big plus. This toner is odorless, so you don't have to worry about the scent.
Despite the many benefits it may provide, one of the downsides to using it is that it may break you out. We encourage you to be extremely careful if you have sensitive or acne-prone skin.
Another trait that we dislike is that while it hydrates fairly well, it can leave your skin a bit sticky after use.
The Bottom Line
Oily skin type has its moods. While some days it seems that everything is almost perfect, others we tend to be overwhelmed with the poor control over oil production.
But we believe that our winner for the best toner for oily skin can help you. We recommend the Thayers Alcohol-Free Rose Petal Witch Hazel with Aloe Vera.
With continued use, this toner can assist in handling oily skin problems. But what's more, it can help to get rid of blemishes and improve the skin's overall appearance.
Though we have much enjoyed using this product, we have put a lot of time and efforts to evaluate and come up with our top five picks in this category.
We have strived that everybody can be able to find something that can fit their particular needs.
Above all, be sure to adopt a regimen that works for you.