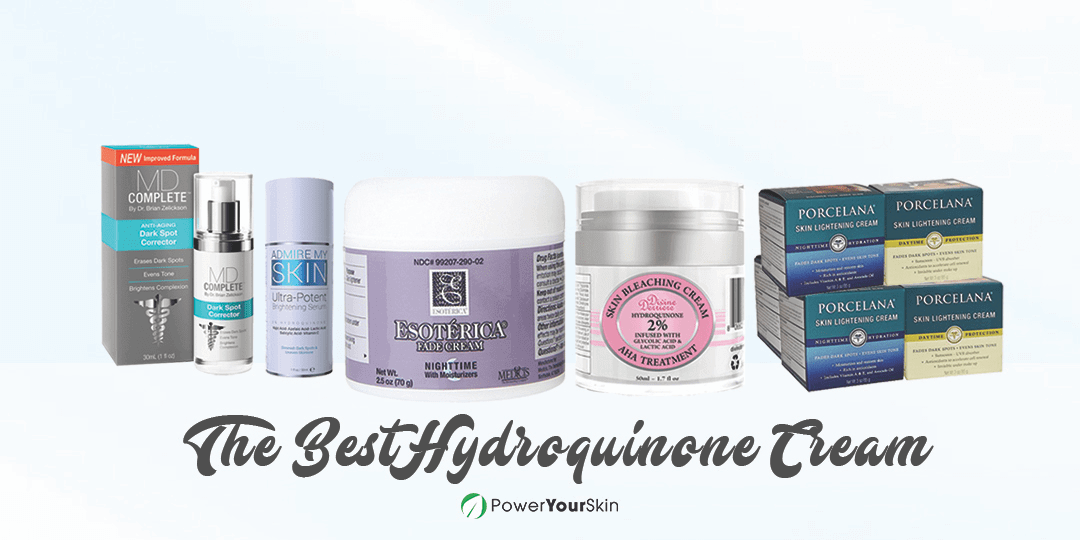 The Best Hydroquinone Cream – 2018 Reviews & Top Picks
We know that dark and age spots, freckles, melasma, as well as uneven skin tone affect both our lifestyle and confidence.
But, hey, we're living in times when everything is possible, and we are no longer limited to the old ways!
We want to start the day with a smile and express freely in front of colleagues and friends to reveal our full potential.
Even that hydroquinone remains a very biased topic, one thing is indisputable--and that's its efficacy in skin lightening.
That is confirmed by worldwide leading dermatologists.
We came up with this list of the top five of the best hydroquinone creams. That is our selection of the most well-performing products.
And thanks to the 21st century, these are only a click away. If that can be the single step separating us from the desired results, then we're on board!
A Quick Overview: Our Top Picks of the Best Hydroquinone Cream
The Admire My Skin 2% Hydroquinone Fade Cream heads our list. That is the most abundant in additional acids product. All of these can help to get the maximum out of the hydroquinone treatment.
Next, we chose the Esoterica Fade Cream Nighttime. We decided to include this for its distinguishing moisturizing properties. That is rare to come across with Hydroquinone, so we consider it a significant advantage,
For our third spot, we have the MD Complete Dark Spot Corrector. We are constantly in the search for products, which make the most of the natural compounds. Thus, we love the inclusion of Raspberry, Cranberry, and Borage Oils. These can all benefit the healthy exfoliation of damaged tissues.
The fourth place goes to the Porcelana Skin Lightening Night Cream. We find this cream a suitable inclusion for a complete skin care regimen. That's because it penetrates very deep and helps to feed the skin with nutrients to diminish the drying action of Hydroquinone.
And for our fifth favorite pick, we have the Divine Derriere Skin Lightening 2% Hydroquinone. We are in love with the hygienic and smart packaging that helps to preserve the cream from harmful environmental elements.
We also appreciate the light consistency, which can be hard to find among Hydroquinone products.
Let's Strip the Big Deal With Hydroquinone
Lots of precaution, a lot of objection, keen followers, forever-grateful-fans--hydroquinone has it all.
We are not saying Don't use it but we are neither telling you to go for it. (We know that sounds strange, but we will get to the point where it makes sense)
​We need a clear view on the topic. And a well-built strategy on both our intentions and the desired outcome.
What to Expect From Hydroquinone Topical Use?
1. Evening out the skin tone
The topical forms of hydroquinone which are available on the market without a prescription are as low as 2% of the formulation.
That means we cannot wait for the same robust results that we can get of professional treatment.
However, as long as we keep applying a hydroquinone cream, the skin tone is going to become lighter and more uniform.
2. Clearing Out Dark Spots, Age Spots, and Melasma
These are broad-spread issues. Not everyone will like to waste much time in consulting a physician and dermatologist.
That's when a hydroquinone cream can become very useful.
We can achieve the effect we want in the comfort of our homes, which is a significant plus in a busy-pace life.
The Dark Side of Hydroquinone (Let's Look Deeper to Debulk Some Myths!)
1. Irritation
As Hydroquinone creates an immediate chemical reaction to block the formation of melanin, it can lead to redness, itching, or burning.
All of these must fade away soon after the first encounters with the treatment. Our best advice includes starting with hydroquinone when you have enough free time.
Thus, you can eventually just stay home during the very first week.
2. Increasing photosensitivity
Hydroquinone & UVA/UVB light equals Problems! Use sunscreen of at least 50. Zinc Oxide is one of the most suitable ones to combine with Hydroquinone.
3. Cancerogenic?
Different medical studies show that hydroquinone is a possible source of cancer-causing elements.
We didn't find any proven scientific evidence that hydroquinone affects people the same way as animals.
The FDA is still under examinations and waiting for further investigation on the topic. Doesn't that resemble the same thing from the beginning?
We are not saying Don't use it but we are neither telling you to go for it.
4. Ochronosis
Even that the problem with this particular issue is not to be underestimated, we need to make things clear.
Back to 2006, for all the territory of the US, there's been only 32 reported cases of ochronosis.
Moreover, it mainly affects people who misuse or overuse the treatment with a high percentage of hydroquinone for a long time.
Or an example of 2% hydroquinone treatment for 7-8 years, while the suggested terms to use is a maximum of 3-4 months and continual breaks.
But whatever the odds, and even if the FDA decides to ban the free use of OTC hydroquinone, products that contain the agent will remain available by prescription.
Is Skin Lightening the New Trend?
Yes, fashion changes all the time, and it is often running to the opposites for a massive impact. Tanning will probably never be out-of-date, but these days it's all about the porcelain looks.
Some of the most popular celebrities, such as Rihanna, Lindsay Lohan, and Nicki Minaj just pop out to surprise everyone with shades whiter skin tone than their average.
Product Reviews: Our Top Five Choices of the Best Hydroquinone Cream
Our top choice of the best hydroquinone creams is the Admire My Skin 2% Hydroquinone Fade Cream.
After the first week of application, our brown spots were looking more visible than usual. But that is mostly due to the peeling of the skin.
We were happy to notice a bright new layer to appear beneath the surface. Another factor to impress us is the lightening of acne scars.
One of our favorite natural astringents is Witch Hazel. Witch Hazel is abundant in tannins, which are unique substances that we can find in the skin of some plants.
In fact, these naturally occurring elements are the reason behind the good taste of a dry red wine. However, in case of sensitive skin, we do encourage you to be very careful and not over-layer the cream.
Doing so can make the new tissue even more vulnerable and increase the damage from peeling. We also think it is essential to let this one dry out very well before getting in touch with any kind of fabrics.
The Esoterica Fade Cream Nighttime become our second best-loved choice for this category. It is advisable to alternate the use of Hydroquinone day and night or both.
That depends on the desired results, but we are glad to find a product suitable to support our beauty sleep.
Immediately after finding Purified water as part of the ingredients, we knew that we had to try this one out.
Purified water can help to bring drastic improvement even with patients suffering from severe skin issues.
It is clinically proven to be times kinder to the skin, as opposed to ordinary water.
We also highly approve the combination of Dimethicone and Light Mineral Oil in conjunction with Hydroquinone.
Since Hydroquinone is much drying, these two elements help to keep moisture intact and don't let it evaporate during the day.
However, we notice that around mid-day the skin tends to become more oily than usual. So we think that might not be the best choice when it comes to oily skin type.
Our third top pick of the best hydroquinone creams is the MD Complete Dark Spot Corrector. That one is impressive with its additional natural compounds to assist skin repair.
We love the inclusion of Borage Extract because it can work simultaneously with Hydroquinone to help calm the skin.
It is rich in gamma-linoleic acid, which is a strong anti-inflammatory agent. The Borage plant itself is known as "bee bread."
Its bright flowers attract these incredible creatures all summer long.
A study by the British Journal of Nutrition confirms that after making use of Borage Oil, women with skin conditions, caused by redness or inflammation experience a significant relief.
While testing this cream, we notice that the proper storage influences both its color, smell, and texture.
For best results and to preserve the maximum quality, we must absolutely keep it away from high temperatures and any light. That includes TV or PC emissions, as well.
Following next on our list is the Porcelana Skin Lightening Night Cream. First, we couldn't restrict ourselves to include just one product, suitable to use at night.
Then, we have to admit that we love the inclusion of Avocado Oil. The Avocado fruit is a symbol of Love and Fertility for the ancient Aztecs.
That's because an avocado tree needs another avocado tree growing close by to bear fruit.
Also, if these little nutritional bombs are still green and hard, putting them near another avocado fruit makes them ripen faster.
When it comes to taking care of the skin, Avocado Oil is one of the most moisturizing agents.
Another significant benefit is the way it helps to soothe the skin and speed up the healing process.
One of the downsides we experience to this cream is the consistency. We find it a bit tacky and thick, and overall odd. It takes some time to get used to it.
The Divine Derriere Skin Lightening 2% Hydroquinone, is our last of the best in this category. One of the first things we notice is that this cream differs much from all the rest on the list.
It is rather thin but we like that a lot, and appreciate the convenient dispenser.
The top just lets out a good amount which is enough and easy to control. Thus, we didn't get to layer it too much, though it is comfortable to reapply if you wish.
Our overall impression after use is that it can help to smooth and refresh the texture of the skin.
We believe that is possible because of the synergistic action of Ferulic and Lactic Acid, supported by Lecithin and Caprylic/Capric Triglyceride.
Lecithin is a part of many formulations that aim to restore dry, dull, mature, and over-worked skin.
It has distinguishing emollient properties to keep the skin hydrated during the whole day.
The Bottom Line
After a thorough evaluation, the Admire My Skin 2% Hydroquinone Fade Cream becomes our favorite choice of the best hydroquinone creams.
We approve its action on both dark and age spots, as well as acne scars.
Apart from the rich formulation, we find this one comfortable to use and trouble-free to dispense.
We do like each of the creams that made it to our selection. Despite being such a biased topic, hydroquinone remains amongst the most powerful treatments for discoloration.
Everything that we do with faithfulness, mind, and diligence, rewards our efforts.
Approach to hydroquinone with patience and a clear vision of what you want to get from the treatment.
And don't hesitate to share your opinion and experience with us in the comment section below.
We keep following our mission of making beauty reachable for millions of people out there, and we know that happens best through communication!