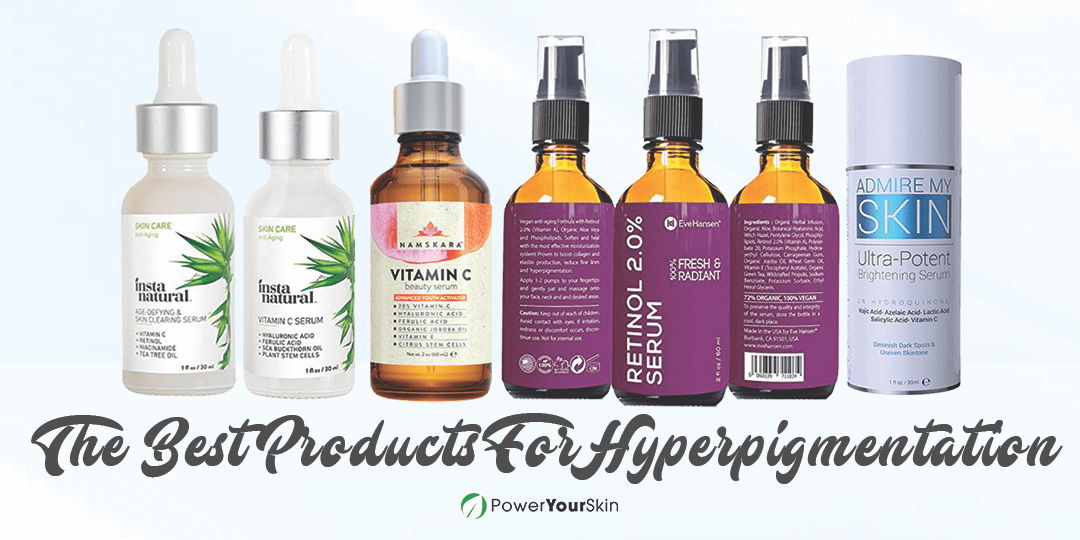 The Best Products For Hyperpigmentation – 2018 Reviews & Top Picks
Many people are troubled by dark spots or uneven tone caused by hyperpigmentation.
But to find the right solution, first, we have to develop a deep understanding towards the problem.
Hyperpigmentation is triggered by the increase of melanin, which causes skin discoloration.
That's why we were looking for products that contain suitable ingredients which are found to inhibit the production of melanin.
Quick Overview: Our Top Picks of the Best Products for Hyperpigmentation
The InstaNatural Vitamin C Serum is our top choice on this list. We were delighted with the high concentration of three potent skin-lightening ingredients, namely Vitamin C, Witch Hazel and Licorice Root Extract. Algae Extract, Hyaluronic Acid, and Plant Stem Cells can further help to restore and rejuvenate the skin's texture.
The next product of this roundup is the InstaNatural Age Defying & Skin Clearing Serum. We were impressed with the combination of Vitamin C, Niacinamide, Capryloyl Salicylic, Retinyl Retinoate, and Polylactic Acid. All of these are known for their excellent whitening abilities.
The Eve Hansen Retinol (Vitamin A) Facelift in a Bottle #3 is our third choice. We highly approve Retinol, which is a form of Vitamin A and is considered an anti-aging ingredient. Moreover, it can treat blotchy skin by targeting the causes for slight discolorations in the pigment.
The product that spots our position number four is the Admire My Skin Ultra-Potent Brightening Serum. Hydroquinone is known among the most potent bleaching agents. It is even used to treat melasma and freckles. Furthermore, we were amazed by the incorporation of five additional skin brightening acids.
Finally, we have the Namskara Vitamin C Serum as our last choice. We appreciate the inclusion of Vitamin C, Ferulic Acid and Citrus Stem Cells that can help to lighten the skin naturally. Nonetheless, we find the action of this product more mild, compared to all the rest on our list.
What is Hyperpigmentation of the Skin?
In order to create the right strategy to address, prevent, and cure any issue, first, we have to dig deep into the reasons that cause it to appear.
Hyperpigmentation is a skin condition, in which some parts of the skin become darker in color than normal. It mostly affects the face and the back of the hands.
Overproduction of Melanin
More often than not, it tends to occur when there is a surmountable quantity of melanin.
That is the brown pigment related to generating normal color in different parts of the body such as the skin, hair, and eyes.
As the body ages, the melanocytes, which produce melanin, become less diffuse.
Then, the ultraviolet light increases the melanocyte activity, which leads to hyperpigmentation.
Acne and Hyperpigmentation
Every process in our bodies is intertwined. Thus, post-inflammatory hyperpigmentation is yet another type.
It can be described as dark spots that become visible on face after acne has been healed.
That happens when the acne lesions inherit inflammation, which causes stressed skin cells to produce more melanin. UVA/UVB Exposure
Once again, the UVA/UVB radiation has much to do with that. It is the trigger of this particular condition.
So to say, it is responsible for the worsening and developing of the hyperpigmentation states.
Among the leading causes are also environmental pollution, or different skin injuries and blemishes.
These include the acne vulgaris. Those who have darker skin tones are most affected by hyperpigmentation.
Aging and hormonal changes are yet another tough obstacle to overcome. The fusion of aging and hormonal changes may trigger brown spots.
That predominantly tends to afflict women in their 40s.
How to Treat Hyperpigmentation?
Fortunately, there are some ways to treat hyperpigmentation. On the other hand, you have to be patient for it will take time to heal.
Nevertheless, it can be cured, and the skin can regain an even tone. One of the possible options is microdermabrasion.
That method makes use of a crystal-free low suction abrasion system to exfoliate the wet skin.
There are also skin care products that can enhance the process of healing.
Some of these can be found in the form of serum, which has the highest concentration of active compounds.
It is advisable that you choose cosmetics containing suitable lightening ingredients.
Let's take, for instance, the magnesium ascorbyl phosphate. That is a type of Vitamin C that could inhibit the production of melanin.
Other ingredients that you might consider including are Hydroquinone, Kojic Acid, Licorice Extract and Soy Extract.
Bear in mind that Hydroquinone might not be the best choice if you have sensitive or dry skin.
On the other hand, it can benefit people with oily and combination skin, as well as patients with normal skin type.
Another ingredient that is proven to lift brown spots and lessen the appearance of fine lines, wrinkles, and large pores is the Retinol.
It is a form of Vitamin A and an excellent anti-aging compound that could also assist in evening out the skin tone.
Vitamin A has antioxidant properties that could reduce the discoloration of pigments and help in preventing skin damage.
Meanwhile, Vitamin E is also found to be effective in reducing the redness, dryness, and discoloration of the skin.
It could also prevent skin damage that is triggered by ultraviolet rays of the sun.
Further down on this article, we have combined all our knowledge on the ingredients to compile our roundup of the best products for hyperpigmentation.
Product Reviews: Our Top Five Choices of the Best Products for Hyperpigmentation
Our absolute top choice is the InstaNatural Vitamin C Serum. Sodium Ascorbyl Phosphate is a form of concentrated Vitamin C.
What is peculiar about this compound is that it can remain stable. Thus, it does not degrade in formulations using water.
Witch Hazel contains two active elements, namely polyphenols and tannins.
These constituents possess high astringent powers to help remove excess oils and speed up the healing process.
It can also become a suitable choice for people who struggle with acne-prone skin.
However, in the case of sensitive skin, the robust formulation can lead to some adverse reactions, such as redness or irritation.
Grapefruit Extract, Ferulic Acid, and Licorice Root Extract are also utilized for their skin-lightening properties.
After testing this cream, we concluded that it could benefit mature skin, as well. That's possible through the added Algae Extract, Hyaluronic Acid, and Plant Stem Cells.
For best results, we encourage you to wait until it absorbs thoroughly. That can ensure the smooth gliding of your makeup.
Another thing we notice is that the liquid appears a bit orange. However, that is due to the inclusion of Carrot Seed and Apricot Oils.
The InstaNatural Age Defying & Skin Clearing Serum is the next best product for hyperpigmentation.
As we mentioned above, we were impressed to find a product that combines the action of five skin-whitening elements.
Niacinamide or Vitamin B3 aids in reducing the melanosome that has been transferred to the skin, and it can work for all skin colors.
It could also boost the skin immune system when suppressed by ultraviolet radiation. Moreover, it could repair the barrier function to block the penetration of free radicals.
Next, Capryloyl Salicylic Acid is utilized for its anti-inflammatory, antiseptic, and exfoliant properties.
It differs from Alpha Hydroxy Acids, as it is oil-soluble, rather than water-soluble. That unique trait makes it possible to seep deep into the epidermis.
Thus, it can remove the dead cells that are stuck up with excess oil, accumulated in the pores.
Polylactic Acid and Retinyl Retinoate are both skin-whitening agents. What we love about this serum is that it is easy to apply and absorbs quickly.
We believe this serum needs some time to reveal its potency, though. That's because the formulation boasts of natural oils and extracts.
These require persistent use, as their benefits accumulate rather than showing immediate improvement.
Our third choice on our list is the Even Hansen Retinol (Vitamin A) facelift in a Bottle #3.
Studies show that Retinol can slow down the effects of aging and rejuvenate the skin. It can also augment the moisture of the skin.
Meanwhile, Aloe Vera can treat even severe skin conditions such as eczema and psoriasis.
That cactus plant could also act as a moisturizer and relieve acne and sunburn.
Hyaluronic Acid could help hydrate the skin through its capability to draw moisture to the surface.
We highly improve the inclusion of Botanical Hyaluronic Acid.
While many types can be supplemented in cosmetics, that one is considered superior to the others. It is clean and doesn't involve animal sources for its production.
Meanwhile, it also contains Green Tea that is treasured for its antioxidant properties.
As we already discussed, banishing the penetration of free radicals aids in preventing the appearance of dark spots.
Thus, it can contribute to making the skin soft and diminishing the signs of aging.
Admire My Skin Ultra-Potent Brightening Serum is our fourth choice of the best products for hyperpigmentation.
Hydroquinone can help to whiten the skin by preventing the enzyme Tyrosinase. We need that particular element in generating the melanin pigment.
Thus, it is re-known for being able to treat even the harshest issues regarding hyperpigmentation, discoloration, freckles, acne scars and other blemishes.
Kojic Acid is used as a skin lightening agent. It also prevents Tyrosinase. It also has antimicrobial properties that could treat acne.
However, we have to warn you to be extra diligent when using this product. It peels off the skin in order to reveal a new layer.
You might prefer to use something that can protect your fingers when applying it, or there is a big chance they start peeling off as well.
After somehow managing to stick through that process, we were delighted with the results.
We encourage you to start with the treatment when you have some days off, or putting on makeup can be an impossible mission.
Last but not the least on our list is the Namskara Vitamin C Serum.
We like that its formulation combines anti-aging and lightening ingredients. Aloe Vera can become a cure for skin pigmentation.
It contains an enzyme that treats dark spots. Thus, it can help to provide the skin with a healthy glow.
Aloe vera could moisturize and clean the skin leaving it fresh. Meanwhile, Vitamin E oil could further assist to fade hyperpigmentation.
The Geranium Extract has been well-known and valued by the ancient Egyptians. They have used it to reduce inflammation and treat acne.
Nevertheless, it can aid in alleviating anxiety and balancing the hormones. Meanwhile, Dandelion is rich in Calcium, Magnesium, Potassium, and Phosphorus.
All of these minerals are essential for the healthy functioning of the skin. It can be beneficial for all skin types, especially for oily and combination.
For those of you with dry skin, we would recommend following it up with another moisturizer to avoid flaking.
The Bottom Line
Conditions, such as hyperpigmentation, can become very bothering and time-consuming.
Thankfully, we are living in the 21st century when almost every type of problem, concerning our appearance, can find a solution.
And so we have the InstaNatural Vitamin C Serum ranked first on our list of the best products for hyperpigmentation.
After a thorough evaluation, we found it proficient in treating skin blemishes and improving the color of the skin.
Vitamin C has antioxidant properties that can brighten the tint of the skin.
It also has tyrosinase inhibitors that prevent enzymes in the body from producing much melanin which causes dark spots.
All the products that made it to this roundup are rich in compounds that could reduce and lighten the spots to create an even skin tone.
We have strived to manage our selection in a way, which can be beneficial for any skin type.