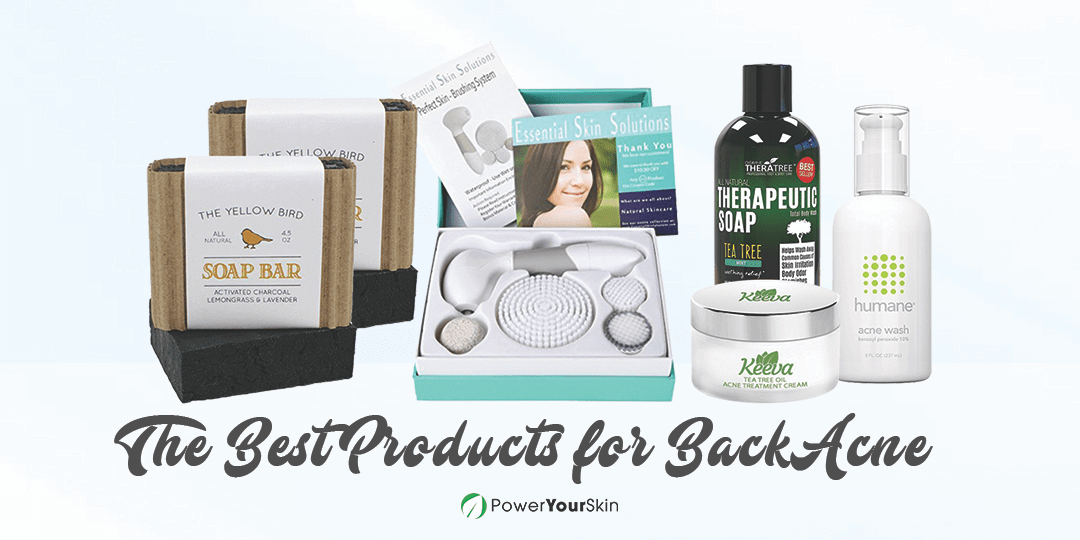 The Best Products for Back Acne – 2019 Reviews & Top Picks
Back acne can be very troublesome. It is considered as one of the most severe skin conditions. Thus, we have to treat the bumps right away.
As we want to guide you in search of the most suitable cosmetics, we have listed our top 5 picks of the best products for back acne.
While evaluating these, we were looking for active ingredients and components that could prevent and treat the symptoms.
Our mission was to evaluate from the bunch in order to find something that can both moisturize and clean the skin to leave it supple, radiant, and healthy.
Quick Overview: Our Top Picks of the Best Products for Back Acne
The All Natural Therapeutic Soap By Oleavine Theratree is our top choice. We highly approve the inclusion of Tea Tree Oil. It is known as one of the most potent compounds when it comes to the treatment of acne. We also like Neem Oil which has the capability to prevent the signs of aging such as fine lines and wrinkles.
The Humane Acne Wash is our next product on this roundup. We were impressed that Benzoyl Peroxide makes 10% of the formulation as an active ingredient. It has strong antibiotic properties and is utilized to kill Propionibacterium acnes, which is the bacteria that causes acne in the first place.
Our third choice for this listing is the Essential Skin Solutions – Perfect Skin- Brushing System. One of the most significant steps when it comes to treating acne, in the long run, is to learn how to exfoliate properly. That can lead to fewer breakouts and clean the skin of accumulated impurities which cause bacteria growth.
Another product that we chose for its high content of Tea Tree Oil that could prevent acne at the back is the Tea Tree Oil for Acne Treatment Cream by Keeva Organics. We appreciate the presence of Shea Butter which is a skin superfood. We also love that this product is enriched with vitamins and nutrient to moisturize tender skin and protect it from damage.
Finally, on our list is the Activated Charcoal Soap Bar by The Yellow Bird. Just as the name implies, it contains activated charcoal that is remarkable in removing dirt and impurities. Lavender and Lemongrass oil serve to clean and soothe the skin. Meanwhile, the added Sunflower and Coconut Oil aid to restore the natural protective barrier as well as to smooth and replenish.
What Causes Acne?
Many people struggle with acne at some point in their life. It tends to occur on the face, back, or chest particularly when we reach the adolescence stage.
In order to understand this delicate condition better, we have to look at the very reasons that cause it in the first place.
The parts of the body like the face, neck, chest, and shoulders have many oil glands.
Acne usually appears when the hair follicles become clogged with oil and dead skin cells.
Once these are generated in the hair follicles, the bacteria then thrive, and the pores get irritated which results in inflammation.
Then, the follicle wall will swell and create a whitehead or may darken, thus becoming a blackhead.
Meanwhile, pimples occur when the blocked hair follicles become infected. These are all types of acne.
Some factors may worsen the condition. These include medications such as androgens, corticosteroids or lithium.
Another factor is the hormones, which are androgens that increase in girls and boys during puberty stage.
The sebaceous glands are enlarged during this stage and generate more sebum. However, hormones keep raging in our bodies throughout our whole life.
Stress, over-work, negative emotions or mental challenges can lead to changes in the hormonal levels.
Some foods can also become a trigger for this particular condition. These include dairy products and foods rich in carbohydrates like bagels, bread, and chips, among others.
We are what we eat, and if we want to protect the skin and help it fight with the problems, we have to be responsible on what we consume.
It is best to stick with food which is less processed and as close as possible to its natural form.
What are the Best Acne-Fighting Ingredients?
Acne can be cured depending on whether it is mild, moderate or severe. Consulting a physician can help you find a suitable treatment to improve and fasten the results.
Some of these include lotions, creams, soaps, or gels that you can apply on the affected areas such as the chest, face or back.
Bear in mind that back or chest acne is a sign that the condition is already severe. However, about 60 percent of people have this type of acne at least once in their lives.
These parts of the body have many sebaceous glands that generate sebum, which is an oily substance.
We know that back acne or bacne could be very troublesome. It is advisable that you treat it right away.
We also understand how challenging it can get when you have to look for a suitable product. So, what are the acne-fighting ingredients?
One of them is the Tea Tree Oil, which has antibacterial and anti-inflammatory properties to calm the skin.
Dr. Neal Schultz, a clinical professor at Mount Sinai School of Medicine, said that Tea Tree Oil is one of his favorite compounds in treating acne.
Another blemish-fighter is the Benzoyl Peroxide.
Research shows that it is among the most effective over-the-counter ingredients for targeting acne as opposed to only preventing it.
It is capable of killing bacteria, exfoliating dead skin cells and removing excess oil.
Other acne-fighting ingredients are clay, activated charcoal, salicylic acid, sulfur, Alpha-hydroxy acids, and azelaic acid, among others.
While evaluating the best products for back acne on this roundup, we were on the look for potent compounds that could remove dirt and help to promote healthy skin.
Product Reviews: Our Top Five Choices of the Best Products for Back Acne
Ranked first on our list of the best products for back acne is the All Natural Therapeutic Soap by Oleavine Theratree.
We love its therapeutic properties due to the inclusion of both Australian tea tree oil and neem oil.
Tea tree oil is known as an excellent treatment for acne. It is antibacterial and antifungal to help reduce skin inflammation.
It can dry out pimples, blackheads, whiteheads, and other blemishes. That's because of its ability to disinfect pores.
Neem oil can aid in fighting acne scars. It is packed with fatty acids and vitamin E.
With these, it could rejuvenate skin cells and restore elasticity. That can be beneficial for smoothing wrinkles and fine lines, as well.
Olive Fruit Oil, Jojoba Seed Oil, Shea Butter, and Coconut Oil can further assist in providing deep hydration.
These natural oils have a very low comedogenic rating. That means they can serve to moisturize the skin without clogging the pores.
However, we encourage you to be careful if you choose to use this on the face. It can burn the eyes.
We also think that some people might not like the runny consistency.
The second product on this roundup is the Humane Acne Wash. Benzoyl Peroxide is an oxidizing agent. Thus, it helps to move oxygen into clogged pores.
That process aids in eliminating anaerobic bacteria.
Furthermore, it improves the control over excessive sebum production. As we already discussed, that is extremely important to prevent irritation.
On the other hand, Benzoyl Peroxide can be over-drying. We highly encourage you to follow it up with a moisturizer.
Bear in mind that Benzoyl Peroxide is not a quick fix. Rather than that, it works to provide relief in the long run.
It can help to continue keeping the pores unclogged and healthy for an extended period after the acne has been cleared.
This non-prescription drug acts as an exfoliating agent. It augments the turnover of the skin and diminishes the mixture of sebum and dead skin cells from the pores.
Consequently, it kills the bacteria by slowing down their growth. One thing to notice is that Benzoyl Peroxide increases photosensitivity.
Our third choice of the best products for back acne is the Essential Skin Solutions--- Perfect Skin—Brushing System.
Even if we attain a full regimen and use a washing gel, toner, scrub, moisturizer, and serum, something can be still missing out of the picture.
That's why we chose to include this skin brushing system on our list.
Exfoliation is crucial as it aids in the cellular turnover. It speeds up blood circulation which leads to fresh blood entering the vessels to support the recovery.
The facial brushes serve to even out the skin tone, address acne scars, brown spots, wrinkles, and fine lines.
Upon testing it out, we were delighted with the control over the motions and the trouble-free reaching of the back.
On the other hand, we advise you not to overuse the kit. Start with twice a week and gradually raise the bar if you wish.
Just make sure to check regularly how the skin reacts in order to avoid any adverse reactions.
The next product of this roundup is the Tea Tree Oil for Acne Treatment Cream by Keeva Organics.
Tea Tree Oil can penetrate into the pores in a short period to eliminate the bacteria that triggers acne.
Rosehip Seed Oil is one of the most gentle natural oils. It was treasured by the ancient Mayans, Egyptians and Native Americans because of its healing properties.
It can protect the skin and increase cellular turnover due to the content of Vitamin C, A, D, and beta-carotene.
The essential fatty acids found in its compound can help to reduce acne scarring by speeding up the regeneration process.
Shea Butter is also referred to as skin superfood that comes from the fruit of the Shea tree.
It is a source of Vitamins A, E, and F. It acts as a moisturizer and provides a mild UV protection (SPF 6). It also pampers the skin with essential nutrients to prevent drying.
However, we advise you to be careful and wash your hands after applying it. In case you miss that, and you get to rub your eyes, it can impart a burning sensation.
Last but not the least on our list is the Activated Charcoal Soap by The Yellow Bird.
The fact that the soap is handmade and cold processed makes it possible to gain all the concentrated power of the active ingredients.
During the cold procession, the elements remain their full blend of vitamins and minerals.
That's because heat can cause some of them to evaporate or lower their efficacy.
Activated charcoal is the leading component of the formulation that serves to fight acne. It helps to remove bacteria, chemicals, toxins, and other micro-particles on the skin.
Sunflower Oil is also known for its potency in reducing acne and preventing the signs of premature aging.
It is an excellent source of antioxidants and beta-carotene that could eliminate free radicals and toxins.
We love that this soap lathers well and is easy to rinse off. However, due to the activated charcoal, it can be a little messy and turn black upon washing.
That was not something we mind, as we were pleased with its pleasant scent and the overall experience with the product.
The Bottom Line
Acne can be challenging at times, and it often affects our confidence and self-esteem.
People who struggle with this type of condition need to be extra diligent in picking the products they use.
However, it is possible to both stop and prevent its development if you attain a healthy lifestyle routine.
The All Natural Therapeutic Soap By Oleavine Theratree is our top choice of the best products for back acne.
We like it so much due to the inclusion of Tea Tree oil that serves to disinfect the pores thoroughly which leads to drying out acne.
It boasts of natural extracts and oils to help deliver the skin with relief and nourishment.
Nevertheless, we do love all the products that made it to our list as we have tested, discussed and evaluated before we find the most appropriate ones.