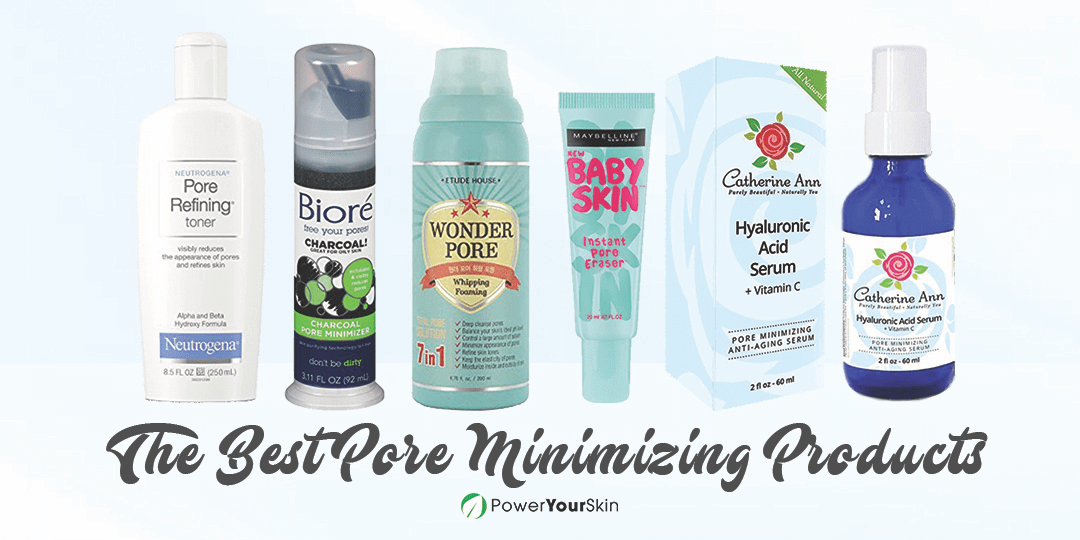 The Best Pore Minimizing Products – 2018 Reviews & Top Picks
Everyone aspires for a spotless, tight, and toned skin. That means no lines, no blemishes and no large pores.
While it's true that there might be no way to eliminate them entirely, there are methods and products to aid us in refining them and making them less perceptible.
There is a multitude of pore minimizing products out in the market, but we have gathered this roundup for your convenience.
You will now have more knowledge on how to shrink your pores with the selection that we have prepared.
We invite you to take a look at our list of the best pore minimizing products and hopefully make the most suitable choice for your needs.
A Quick Overview: Our Top Picks for the Best Pore Minimizing Products
Primarily on our roster is the Biore Charcoal Pore Minimizer. Made in Japan, this pore minimizer has natural charcoal as its base element. It has granules that scrupulously help to cleanse deeply. It can work well with oily skin and has the power to exfoliate unwanted flakes.
Next in line is something that would complement those who want a primer that can address the visibility of pores. The Maybelline New York Baby Skin Instant Pore Eraser Primer is laden with Bitter Cherry Extract that is known to lighten the skin. It also has Silica Silylate which helps to make the product long-wearing.
Down further in this list is the Etude House Wonder Pore Whipping Foaming. Those who like an easy-to-rinse cleanser that is less likely to irritate the skin might appreciate this product. It could help to lighten the skin and reduce the appearance of lines and big pores.
Fourth on our list is the Neutrogena Pore Refining Toner. We appreciated its ability to double cleanse the face. With extracts from Eucalyptus and Peppermint, it can effectively assist in purifying the pores.
Last in this roster is the Catherine Ann Pore Minimizer Hyaluronic Acid Face Serum. One great feature of this product is that it could be a serum and a primer at the same time. Although it is a gel, we liked that it is not greasy when applied on the face.
Before we delve into the best pore minimizing product, first, let's discuss what causes pores to enlarge and how to deal with them.
What are Pores?
We all want to diminish the look of pores on our face but what are they exactly. Do we have a valid reason to hate them and wish for them to disappear completely?
A pore is an opening in the exterior part of the skin. It serves to transport oil, water and sweat out. The oil is needed by the skin as it is the one responsible for nourishing it with moisture.
The pores alone can help remove dirt, supposedly, that get into the opening. However, the impurities tend to get coiled up in the hair follicle and thereby clogging and enlarging the pores.
There are three types of enlarged pores: the ones with an O shape, the ones with an U shape and the ones with an Y shape. Different reasons make them come about.
The first type brought about by changes in the hormones. The second arises because of lack of elastin and dryness. The last one is caused by severe deficiency of elasticity on your skin.
What Causes Pores to Enlarge?
There are reasons innate to the genetics that contribute to enlargement of pores. But there are also things that we can cause without even knowing.
Naturally, the genes of your parents will play a role in the kind of pores that you are most likely to have. One natural phenomenon that occurs is that as we age, our skin cells are no longer able to regenerate. Moreover, we lose elastin and collagen with time.
Sun damage is also a source that instigates enlargement of pores.
One particular situation that leads to an adverse effect on your pores is when you go to sleep without cleansing your face or removing makeup.
Another one is when you use skin products that are over drying or too moisturizing.
How to Deal with Large and Visible Pores?
Many people wonder if there is a way to clog pores entirely. There are natural and non-natural methods that could be adopted.
One natural way is to have a steam bath. By science, we all know that steam can open the pores.
You may also soak in flowers or herbs such as rose petals, mint or lavender. When you breathe in the steam and the scent, the pores will be able to get moisture and oxygen.
Another natural method is to apply ice on your face. Pat and caress yourself with ice for 20 seconds. It will help shrink the pores and make you look young.
Lemon juice could also provide a remedy to pore problems. Lemon is known to tighten and lighten the skin.
Next alternative is to use the complete range of products such as a toner, an exfoliator, and a facial wash.
Adopting a suitable and full beauty regimen can help significantly to reduce the size of pores.
Now that you have an overview about pores let's head on to our roundup of the best choices for this category.
Product Reviews: Our Top 5 Choices of the Best Pore Minimizing Products
The product that heads our list is of the best pore minimizing products is the Biore Charcoal Pore Minimizer. It might suit well those who are having a difficulty with oil and blackheads.
We loved its tiny particles on our skin. We felt that our pores were cleaned thoroughly because of the gel texture and granules.
Plus, this minimizer gives a cooling sensation and a tightened skin after-effect. Its content of Sodium Laureth Sulfate makes the gel able to seep through the skin.
This sulfate is a known surfactant, which means it can separate the tiny morsels in the mixture and make it foamier.
Sorbitol is noted for inhibiting moisture loss in the skin. It can help to keep the hydration locked in. Glycerin, similarly, moisturizes the skin and is able to make it look supple and healthy.
The only downside of this product is that it might not suit those who have dry skin. However, if you still want to try this on your pores, we recommend you to moisturize generously after use.
Our second top pick is the Maybelline New York Baby Skin Instant Pore Eraser Primer.
It contains powerful ingredients such as Bitter Cherry Extract, Caprylyl Glycol, Silica Silylate, Dimethicone and Propylene Glycol.
We love how this primer has a texture which wasn't cakey and didn't feel heavy on the face. It helped us make our pores appear less visible under makeup. It has no unpleasant scent.
Another good trait about this primer is that we didn't have to put on so much. A little was enough for basic coverage.
Perhaps, this was because we have oily skin. However, we think it might suit just fine those who have dry skin. All you need to do is add some more amount for coverage.
Bitter Cherry Extract brings elements of potassium, manganese, iron, and vitamins. Cherries are known to have lightening agents, too.
The presence of Silica Silylate makes it possible for this primer to last long. Silica Silylate is a thickening and a moisturizing agent.
Coming in at number three of the best pore minimizing products is the Etude House Wonder Pore Whipping Foaming.
We loved that it gives a tingly feeling while using it and we felt that our pores were being cleaned finely.
We noticed that somehow our skin was stretched a bit after washing. However, it was much like there was a film covering it. So the skin looked toned.
It is easy to rinse off plus it dries quickly, too. Even though it has a bitter smell, we appreciate that it was not irritating to the skin.
It contains natural elements of Yarrow Plant Extract, Citric Acid, Wormwood Extract, Gingko Biloba Extract and Arnica Flower Extract.
The presence of Gingko Biloba Extract makes it possible for this cleanser to reduce fine lines and pores because of the antioxidant component of this ancient plant.
On the other hand, the contents of Arnica Flower Extract aids in skin hydration. It can also heal minor irritations and wounds.
Neutrogena Pore Refining Toner is our fourth top choice. After trying it, we liked its texture. It helped to reduce the size of our pores and lighten the complexion a bit.
We felt that it double cleansed our face from further dirt.
We love the combination of Witch Hazel Extract, Salicylic Acid, Aloe Barbadensis Leaf Extract, Eucalyptus Leaf Extract and Peppermint Leaf Extract.
Salicylic Acid makes it possible for the toner to open pores and break down the dirt locked in them. Furthermore, it normalizes the skin cells.
The presence of Eucalyptus and Peppermint provides a relaxing mood. Not only that, these serve to stimulate follicle, thereby, easing the congestion in the pores.
Thus, they make it easy to cleanse and purify the pores. The drawback of this toner is that it is slightly drying so you might want to moisturize heavily after using it.
You might also want to be cautious when applying it near your eyes as it could sting a bit.
We recommend the last product on our list to those who are curious about a serum that can minimize the pores.
It is abundant in nutritious vital and healthy components, such as Geranium Essential Oil, Green Tea Extract, Gotu Kola Extract, Dandelion Extract and Vitamins C & E.
We have used this for more than a week, and we have seen slight changes in our skin tone. Our lines and pores were also reduced. It was easily absorbed by our skin, and it felt refreshing.
We also noticed that our face complexion has become a little lighter. Surprisingly, we tried to use this as a base for makeup and it worked just fine.
The presence of Dandelion Extract aids in opening up the pores and seeping through them to remove impurities. It has germicidal properties so you can enjoy its potent cleansing ability.
On the other hand, the Geranium Essential Oil is known for being able to remove excess oil. It even helps to balance the sebum production of the skin.
The Bottom Line
We believe you can benefit from including any of our top five choices in your pore cleansing and refining regimen.
We have shared with you our roster of the best pore minimizing products, and overall, the Biore Charcoal Pore Minimizer remains to be our top selection.
We liked that this charcoal pore minimizer has a good texture and a refreshing scent. Also, it has microbeads that enable you to exfoliate your skin and give it a renewed look.
There are four other options which we have strived to gather in such a manner, that there could be something suitable for each skin type and condition.
We have compiled the best toner, primer, foaming wash and serum for this category.
The rough and uneven skin might be caused by clogged pores, and this is not something that we want to have. Clean pores lead to a flawless and youthful appearance. We hope that our review has helped you consider the best choice to enhance your complexion.