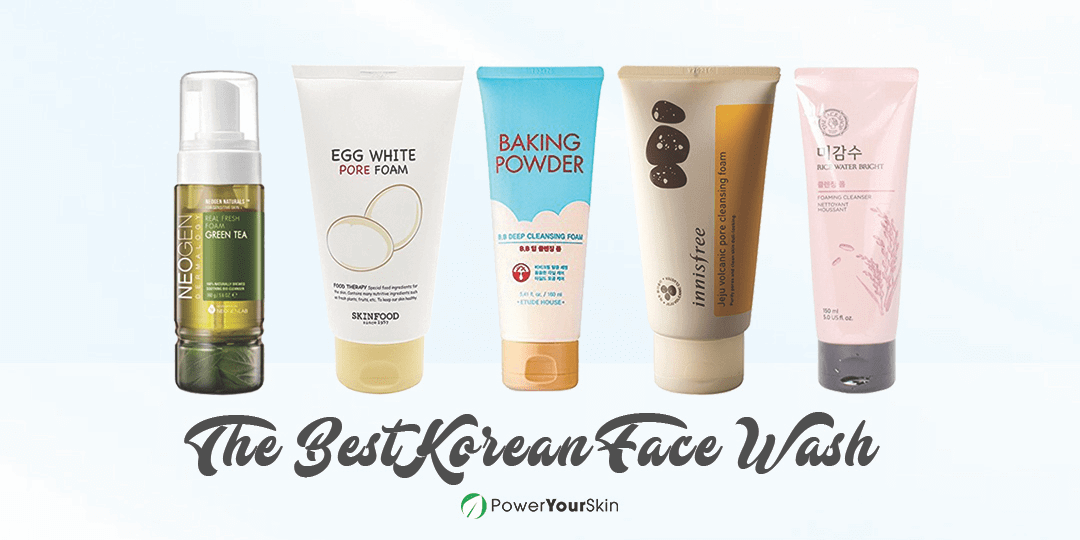 The Best Korean Face Wash – 2018 Reviews & Top Picks
Cleansing it becomes of prime importance since it is an essential part of our daily hygiene and protection.
Cleansing should also be carried out to prepare the skin for absorbing healthy elements later in our routine. It can enhance the penetrating abilities of a toner, a moisturizer, or a primer.
What facial wash have you been applying on your skin these days? We have a round-up of the best Korean face wash in the market that you might want to give a try.
There might be many preferences and criteria for selecting the most suitable cleanser. However, if you are curious about these Korean products you might want to survey our selection.
A Quick Overview: Our Top Picks for the Best Korean Face Wash
The Innisfree Jeju Volcanic Pore Cleansing Foam is primary on our list. We were impressed with the content of Volcanic Ash which is known to trickle into the deep layers of the pores and take out the excessive sebum. Plus, we liked how this product yields to a foamy texture even with just a tiny amount.
The second product of our selection can be suitable for those who want a lightened skin. We have chosen the Face Shop Rice Water Bright Cleansing Foam. It can make a good match for people who have dry skin, and we enjoyed its long-lasting usability.
Third in our roundup is the Skinfood Egg White Pore Foam. It boasts of Albumin Extract and Licorice Extract that can both help to regulate the production of oil. Furthermore, we highly appreciate the skin firming effect that we experienced upon testing it out.
Down further on this roster is the Neogen Real Fresh Foam Green Tea. We like how this creatively packaged cleanser comes in different varieties so we can choose the one that can fit our taste best. It is laden with so many natural elements that can nourish the skin contributing to a youthful appearance.
Number five in our list is the Baking Powder BB Deep Cleansing Foam. The inclusion of baking powder makes it possible to cleanse the face of dirt and grease thoroughly. It also has added Glycerin and Silica which combine for a double effect of locking in the moisture with no greasy residue.
Before we present to you our list, first, let's discuss the so-called Korean facial cleansing methods.
What's the Hype with Korean Facial Care?
Korea is becoming a household name to those who are meticulous with their skin. Koreans are celebrated for their spotless, pore-less and fair complexion.
They are also known to take their beauty regimens seriously. They have incorporated beauty care in their lives dating back to the time of the three famous dynasties.
Example of a routine that is significantly important to them is the so-called Korean double cleansing method.
Proper Cleansing - Do It Twice!
As its name suggests, there are two items involved: an oil-based cleanser and a water-based cleanser.
The oil-based is used to remove makeup and grease from the surface of the skin. Next, the water-based is implied to get rid of sweat and dirt that got embedded in the epidermis.
This first part of their cleansing routine is not done just out of whim, but out of logic. Only oil elements can remove other oily impurities.
A water cleanser will not be able to do so because oil and water are difficult to mesh.
It seems more encompassing and more effective if you use both cleansers as all kinds of dirt are eliminated.
Exfoliation
The next step after double cleansing is exfoliating. For a brighter and more glowing skin, exfoliating is highly recommended.
It can aid in getting rid of dead skin cells and oil build-up. However, don't over-exfoliate, as this might strip the face of its natural oils.
Toning
The toner follows next in this process. It is applied to keep the pH level stability of the skin. If you want a youthful and damp look, then head over to the next step.
Applying an essence is used to hydrate the skin further.
Ampoules
The fifth step is the application of an ampoule. This is a cross between a serum and essence.
It boosts hydration because it contains active ingredients. Then, it is followed by a serum application.
Face Masks
The use of a sheet mask is also necessary as it can soak up the hydration brought about by the essences, ampoule, and serum. And finally, the result can be a supple look.
Koreans also pay attention to their eyes; hence, an eye cream is imperative. The ninth step is the use of a moisturizer.
It is used to keep all the healthy ingredients applied on the face during the whole evening. However, double cleansing is not practiced in the morning, but instead, they rely on clean water.
The rest of the steps are the same except for the sheet mask and exfoliator. Koreans are also wary of the sun, and so they use a moisturizer that has a sunscreen element.
For some people, this skin care practice might seem too elaborate and time-consuming.
However, double cleansing your face not only helps remove impurities, but it also helps prepare your skin to accept the efficacy of other products.
Nevertheless, it might not hurt to give it a try, especially, that the output on Koreans' faces proves the amazing effects.
Now that you have a general idea of how Koreans cleanse their face, we are eager to head on to the reviews of the best products in this category.
Product Reviews: Our Top 5 Choices of the Best Korean Face Wash
Our winner is armed with several natural ingredients, that can help us get rid of pollutions, especially the ones brought by makeup.
It can help to eliminate the remnants of foundation powder and unclog the pores.
Volcanic Ash is known for its power to seep through the pores and clasp on sebum, thereby leaving the skin clean and bright.
Honey Citrus is a remarkable antioxidant that regulates the production of melanin. Because of this ability, the skin is able to maintain its suppleness.
We liked that this cleanser also contains healthy Prickly Pear Extract, Green Tea Extract, and Snow Camellia Extract.
With just a small amount, we noticed that the product foams well. We have taken only the size of two thumbnails, and it was enough.
After cleansing, we found there is somewhat of a tight feeling. It can work well for those who have oily skin.
However, if you have dry skin, we recommend you to follow it up with a moisturizer.
Product number two that made it to our list of the best Korean face washes is equipped with the revitalizing cogency of rice water.
Rice extract has enzymes that can relieve the skin from itchiness and swelling. Moreover, it can prevent the skin from dryness and lighten it as well.
What we also liked about this foam is that it left our skin squeaky clean. We managed to cleanse even the makeup that we have worn from morning until night.
The Hydroxycitronellal is responsible for its aromatic fragrance. Hydroxycitronellal is a liquid substance that has a medium strength floral scent.
It reminds much of something between a sweet tropical melon and water lily.
However, due to the possible irritation, we do not encourage you to use this product on open wounds or straight after shaving.
Soapwort extract helps to dispel grease and alleviate blemished skin. Nevertheless, we did not appreciate that it does not foam up too much.
The product that landed on our third position can be beneficial to those who are meticulous about maintaining firm and clean pores.
It has the Amino Acid component of Egg Whites that can aid in promoting collagen and elastin growth.
The Sesame Seed Oil has a well-balanced fatty acid content. It has a long history of use that dates back to the Ancient times.
It is rich in magnesium, calcium, phosphorus, and Vitamin E to help alleviate sagging skin, as well as to repair and prevent free radical damage.
What we liked about this product is that despite its foamy consistency, it was easy to rinse it off. We loved how our skin felt deeply cleansed and clarified.
The Licorice Extract helps to curb the flow of oil. Next, the Albumen Extract from eggs can assist in reconstructing the skin texture.
These two elements contribute to a younger looking appearance.
Number four on our list of the best Korean face washes is the Neogen Real Fresh Foam.
It combines a fusion of beneficial ingredients such as Moringa Seed Extract, Mushroom Extract, Myrtle Leaf Extract, Witch Hazel Extract and Grapefruit Extract.
Although the pump design was built in a crummy way, we liked the fact that it has so many natural plant and fruit-derived compounds.
We have applied it, and surprisingly, we managed to remove our eyeliner easily. It was not irritating to the face, and it was not harsh.
Mushroom Extract can help in inhibiting the skin aging process. It has vitamins and antioxidants that can contribute for gaining elasticity and firmness.
Moreover, this facial wash has Witch Hazel Extract that can eliminate unwanted oil from the skin.
On the other hand, the Moringa Seed Extract facilitates the formation of collagen. As such, it rounds out the possible anti-aging benefits of Mushroom Extract.
And our last suggestion is the Etude House Baking Powder BB Deep Cleansing Foam.
With the ability of the baking powder to cleanse and exfoliate, this might be a remedy to those who fight with stubborn blackheads.
We liked the pleasant lemon scent and creamy texture. We felt that our skin was thoroughly cleansed because of the tiny grains exfoliators.
They gradually melted as we scrubbed the cream on the face.
Because of this powerful ability, we do not recommend you to use the cleanser on a daily basis. Three to four times in a week can be enough to maintain your routine.
We noticed that when it is frequently used, it tends to strip off the moisture off the skin. You might want to put on moisturizer after cleansing with this product.
Sodium Benzoate is known for preventing mixtures from spoiling. However, since it is a synthetic, we encourage you to proceed carefully when using this product.
That is especially important to consider if you have acne-prone or sensitive skin, as it may lead to breakouts.
The Bottom Line
We have shared with you a list of the best Korean face wash and overall, the Innisfree Jeju Volcanic Pore Cleansing Foam remains to be our top pick.
The Volcanic Ash content might satisfy those who have oily skin because the ash element helps to dry out the accumulated sebum. We like it because only a small amount is enough to yield to a creamy texture. It also has an attractive and invigorating scent.
We were impressed by the mixture of healthy ingredients like Citrus Peel Extract, Orchid Extract, Opuntia Coccinellifera Fruit Extract, Camellia Sinensis Leaf Extract and Camellia Japonica Leaf Extract.
With this roundup, we hope that we have inspired you in selecting the most suitable cleanser that can help you achieve a flawless and youthful skin.
Each of the products that made it to our selection was carefully assessed and evaluated. Thus, we believe you can be able to find your personal favorite.