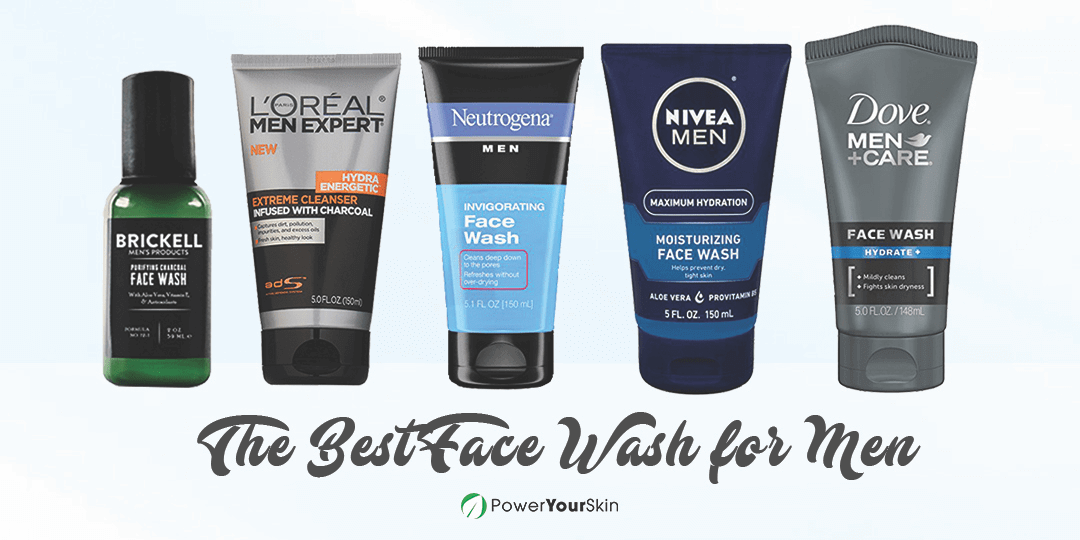 The Best Face Wash for Men – 2018 Reviews & Top Picks
There is a stigma that the beauty niche leans more to females. But in fact, it is more about skin care and personal care which should be for everybody.
Men's body and skin are different from women's which is why there is a distinction between products. We will discuss more on the topic further in this article.
Adapting a proper beauty regimen can help cope with existing skin issues or to maintain the skin's health.
It is essential to test out what kind of product will suit best your skin, as we are beautifully unique after all.
Quick Overview: Our Top Picks of the Best Facial Wash For Men
The NIVEA Men Maximum Hydration Moisturizing Face Wash tops our list. Our first impression was that we like the tingly, cooling sensation after use. We enjoy a facial wash that can help to wake us up and get ready to start the day. We were also glad to notice an improvement in the skin's texture.
The second best on this list is the Brickell Men's Purifying Charcoal Face Wash for Men. Apart from the beneficial charcoal that helps remove dead skin cells, we were impressed with Green Tea and White Tea Extract. These possess high antioxidant properties to aid in the fight against free radicals.
Our third favorite choice is the L'Oréal Paris Men's Expert Hydra Energetic Charcoal Cream Cleanser. Activated Charcoal can draw poisons, bacteria, chemicals, and dirt, accumulated on the surface of the skin. The added Glycerin can help to retain moisture so the delicate facial zone can become soothed and even.
The fourth best face wash is the Neutrogena Men Oil-Free Invigorating Foaming Face Wash. We like this one for its power to address the pore's appearance and overall condition. Maintaining the pores clean is significant to remain free of blemishes. We were also delighted with Panthenol, which can provide hydration, healing, and revitalization.
The last best pick is the Dove Men+Care Face Wash. We chose this one because we enjoyed the tiny exfoliation particles. We also like that it lathers well to remove impurities. That is possible with the incorporation of Palmitic Acid, which is known for its cleansing, emulsifying and foaming properties.
The Difference Between Men and Women's Facial Cleansers
For a start, the men's skin tends to produce more collagen. That makes it tougher and oilier than women's.
Thus, the ingredients used in the formulations of products cannot be equal for both genders.
The next thing we have to consider is that men have to shave the excessive hairs covering the facial area.
Consequently, cleansers should contain compounds which can help to soften the skin both before and after shaving.
Most men's cleansers are tailored to work synergistically to exfoliate and keep the skin hydrated.
More often than not, their formulations are targeted on long-lasting performance compared to that of cosmetics, designed for women.
An average female would adopt a complete beauty routine which includes multiple products.
But when it comes to men, things need to be more straightforward.
That's why male cosmetics tend to adopt a multi-tasking approach and combine as many benefits as possible in one product.
Why Should Men Opt for a Face Wash?
Using a suitable facial wash as part of a regimen in taking care of the skin can help to enhance the appearance.
And that is almost impossible to achieve with plain soap and water.
First, facial washes contain ingredients which differ them in order to address well specific skin types and conditions.
Next, the primary purpose of facial washes is to assist in clearing out the skin. We are exposed to pollution, UVA/UVB radiation, and environmental stressors.
These all contribute to accumulating dirt, and impurities, which result in premature aging, sagging skin, blackheads, whiteheads, and blemishes.
To avoid that, we have to arm with diligence and understanding. Bacteria doesn't distinguish between genders.
Thus, germs and microorganisms that multiply and boom on dead skin cells, have to be stopped from developing.
Facial washes can also help to avoid ingrown hairs. While addressing clogged pores, these serve to speed up cellular turnover.
Some facial washes combine moisturizing properties. These can be beneficial to aid in reducing shaving bumps.
However, only a facial wash might not be enough to help get the skin rid of all accumulated dirt and grime.
That's why some products imply small exfoliating beads or micro-particles that can help with exfoliation.
As we already discussed, the men's care niche strives to combine the products' properties to save males some precious time.
To be honest, who doesn't appreciate compact and easy-to-use cosmetics, after all?
A facial wash can remove the excess dirt and oil that clogs the pores. It helps cleans the face without stripping off the natural moisture.
A facial scrub, on the other hand, exfoliates dead skin cells. However, such products tend to be more drying and need to be followed up with a moisturizer to avoid flakiness.
Thus, a facial wash combining the properties of an exfoliator can become a match for those who want to reveal a new layer of healthy skin without having to expand their skincare collection.
There is an abundance of products flooding the market. We have put all our expert knowledge and efforts to evaluate among the bunch.
And so we have come up with our top five picks for the best facial washes for men.
Product Reviews: Our Top Five Choices of the Best Facial Wash For Men
First on our roundup of the best facial washes for men is the NIVEA Men Maximum Hydration Moisturizing Face Wash.
We like that it leaves a fresh menthol feeling after use and it also contains Vitamin E to speed up cell regeneration.
That vitamin is known to help maintain a youthful appearance, as well as to repair and protect the skin's natural barrier.
It also contains Castor Oil to lock in the moisture and keep it intact for that supple look.
We also love that it lathers well and is smartly designed to be suitable for daily use, even without the need of following up with a moisturizer.
What we did not like about this facial wash, however, was the distinctive masculine scent. It can come off as a bit too strong and it may be bothersome to some people.
Also, in case you have very dry skin, then it might not be enough on its own to help prevent flaking.
We recommend you to limit its use to no more than thrice a week, or hydrate regularly.
The Brickell Men's Purifying Charcoal Face Wash for Men has become our second choice.
Apart from Activated Charcoal, we like the fusion of natural oils and botanical extracts. Aloe Vera aids in healing damaged tissues and reducing inflammation.
Olive Oil and Jojoba Oil can bind with other oils in the skin to help dislodge these out.
Olive Oil is rich in antioxidants, polyphenols, and phytosterols to restore skin's smoothness. It has a moderately low comedogenic rating of two.
Jojoba Oil can form a subtle, invisible film over the surface of the epidermis to block free radicals and keep the moisture intact.
We think this product can become a match for dry, normal, and acne-prone skin better than when it comes to oily skin type.
Peppermint, Eucalyptus, and Lemongrass Essential Oil can invigorate, cool and refresh the skin. These can also benefit acne and blemishes due to their antiseptic properties.
However, in cases of rosacea or easily irritated skin, the sensation they impart might lead to adverse reactions, such as redness.
We also noticed that this facial wash doesn't lather very well due to the natural and organic ingredients in its formula.
The L'Oreal Paris Men's Expert Hydra Energetic Charcoal Cream Cleanser has become our third choice.
The active ingredient is Charcoal which has a vital role in making the formulation work the way it does.
Activated Charcoal forms from preheating ordinary Charcoal in a way that forms a lot of small spaces in it. These are capable of trapping in chemicals.
Moreover, it is a natural derivative and it does not get absorbed by the body.
However, upon testing the product, we concluded that it might be better to address oily, combination, and acne-prone skin, rather than dry skin type.
Even though it contains a sustainable amount of Glycerin, it can still lead to over-drying when used on a regular basis.
That's why we would recommend putting only a small amount of this cleanser. We notice it lathers quite well.
And second, applying a suitable quantity can limit the appearance of dry patches. Another option is following it up with a moisturizer.
We like that the wash does have a fresh masculine scent to it, but it is not strong to the point that it becomes bothersome.
Our fourth choice of the best facial washes for men is the Neutrogena Men Oil-Free Invigorating Foaming Face Wash.
Coco-glucoside comes from the combination of glucose and coconut-oil derivatives.
It acts both as a surfactant and emulsifier. It aids in creating a sustainable foamy lather to prevent friction between the product and the skin.
Thus, it can help to treat blemishes by reducing their size due to the mild drying out of the pimples.
We also notice that it can diminish redness, though for long-term efficacy we would recommend continued use until the benefits are fully revealed.
The consistency of this wash is rather thick, so a little goes a long way. Our best tip is to always start with activating the product with some water to help lather it well.
You need to gently wet the skin and then squeeze some between the fingers before applying to the whole facial area.
It also has a mild scent that disappears not long after we wash the skin.
And lastly, we have a spot for the Dove Men+ Care Face Wash. We like that this mild face wash features excellent hydrating power.
What we liked about this product is that it can prep the skin well for a close shave since it leaves it soft and smooth.
Sodium Lauroyl Isethionate is a surfactant, derived from coconut. It is water soluble and sulfate-free.
Moreover, its delicate cleansing abilities are possible because of its molecule size. The thing is, it is too large to penetrate the skin and cause irritation.
Thus, the facial wash also lathers well on the skin, and we find it can be gentle to use even on sensitive and acne-prone skin.
It has a very light scent that disappears just after we wiped the excess of the cleanser off.
Another feature we find useful is that due to the moisturizing agents in the formulation the wash can help to reduce shaving bumps as well.
What we did not like about this product, however, is that it is a bit watery, compared to all the rest of the face washes on our list.
The Bottom Line
Maintaining a healthy skin has become an equal right for both the genders. Moreover, that is of significance for our confidence and self-esteem.
However, it is up to us to determine the appropriate approach towards treating the skin. We believe cleansing is the absolute grounding for supporting the skin's wellbeing.
Thus, the NIVEA Men Maximum Hydration Moisturizing Face Wash wins our title of the best facial washes for men.
We like that it can help to cleanse deep down to the pores and improve the texture of the skin.
Nonetheless, we love the fresh sensation after-use that aids in rejuvenating and stimulating the brain for a new start of the day or a relaxing sleep.
It is best to find a facial wash that suits your skin type's needs and adopt a regimen that truly works for you.
We hope we have been of assistance with our top five products. We believe each of these can help to address various conditions and personal preferences.