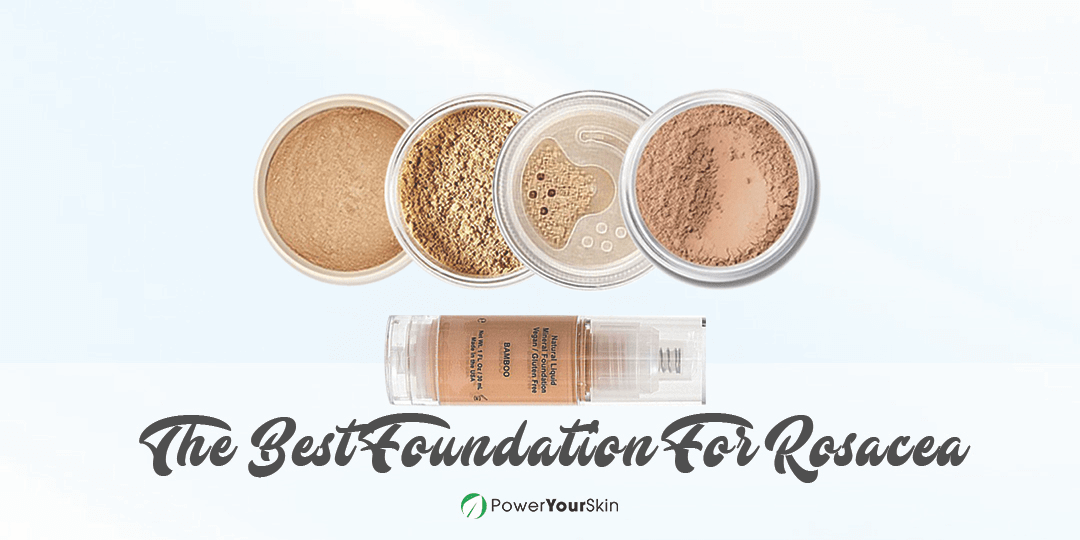 The Best Foundation For Rosacea – 2018 Reviews & Top Picks
People who have rosacea may experience facial redness, which could appear unsightly at times. Experts state that there is no cure for rosacea.
On the other hand, there are ways to relieve the symptoms as well as to conceal imperfections.
One of these is by using a makeup foundation that has good coverage.
But when it comes to that delicate skin condition, you have to look for a product that can help to treat the problem, rather than just hide it for a while.
Thus, we have listed the top 5 best foundations for rosacea to share with you our impressions of the most suitable products for this skin disease.
Quick Overview: Our Top Picks of the Best Foundations for Rosacea
The Pure Minerals Foundation Loose Powder is our top choice for this roundup for its capability to protect the skin. We love that it contains mineral ingredients which are less likely to irritate. Also, we highly approve that it has no added chemicals or talc which can accumulate in time and cause inflammation.
The second choice in our list is the Jane Iredale Loose Mineral Powder. We were delighted with its ability to conceal redness. It also serves as a natural sunscreen with its ingredients such as Titanium Dioxide and Zinc Oxide.
Meanwhile, our next product on this roundup is the Shimarz Liquid Mineral Foundation. It contains Aloe Barbadensis Leaf Juice which is known to treat and relieve skin conditions such as rosacea. Besides that, it also has anti-inflammatory properties that could soothe the skin.
The Bella Pierre Mineral Foundation is our fourth choice for this roundup. We appreciate the hypoallergenic formulation of this product which can make it suitable to use on most skin types. Furthermore, we like how it contributes to an even skin tone while preventing free radical damage.
Finally, we have on our list the bareMinerals Matte Foundation SPF15 that can also provide treatment for rosacea with its active ingredients. One particular compound that catches our attention is Lauroyl Lysine. It is an amino acid derivative of coconut oil that can help to soften the skin without aggravating the symptoms of rosacea.
What are the Causes, Symptoms, and Treatments of Rosacea?
Rosacea is a skin disease that causes redness on cheeks, nose, chin, and forehead. It can also lead to soreness and burn in the eyes.
There are uncertainties on the real cause of rosacea. It mostly affects people over the age of 30 and those who have fair skin or blush easily.
The disease seems to be genetic or run in the families.
It worsens when something causes the blood vessels in the face to expand, which may result in redness.
Things that can flare-up rosacea include the sun, exercise, hot weather, alcohol, stress, spicy foods, wind exposure, and hot baths.
The sudden change in temperature from hot to cold or cold to hot could also trigger this condition.
The redness usually appears in the central part of the face, in which the small blood vessels on the nose and cheeks swell.
People with rosacea also often acquire pimples on the face. These look like acne, though we refer to them as bumps.
Other symptoms of rosacea include eye problems and enlarged nose. Rosacea sufferers can develop eye redness and reddened eyelids.
The nose area may thicken too. That is common in men rather than in women.
As we mentioned above, there is no cure for rosacea. Or at least there is no standard recipe to work with everyone.
On the other hand, the symptoms can be relieved through medicines such as antibiotics like doxycycline.
Nevertheless, it is still essential to find suitable skin creams to help diminish the redness and breakouts.
What to Consider When Choosing the Right Foundation for Rosacea?
The first and foremost thing to bear in mind when picking a suitable product is its ability to calm redness and bumps.
Thus, you have to look for cosmetics which are rich in herbal extracts and natural oils. Essential oils that impart a warming sensation are not recommended.
That includes Cinnamon, Clove, and Geranium oil, among others. Opinions vary regarding Peppermint Oil as it may bring calming to some, and discomfort to others.
Meanwhile, you can benefit from the inclusion of Eucalyptus Oil which can help to numb the pain, cool and refresh.
Other suitable options are Rose, Chamomile, Myrrh, Lavender, Tea tree, and Neroli Oil.
These are famous for their soothing properties, and they can also convey an antiseptic and antimicrobial action.
Things get complicated since we also have to find something that promotes good coverage.
It is advisable that you choose foundations which lack potential irritants and chemicals.
You must avoid products that contain artificial fragrances because these may trigger this delicate condition.
We also encourage you to stay away from products that have palm or mineral oil because these can aggravate the symptoms of rosacea.
It is recommendable to choose a mineral based foundation and apply it using an antibacterial brush.
You must also avoid products that have alcohol, or witch hazel to their formulation. That's because their high astringent ability can lead to redness.
According to the National Rosacea Society survey, about 66 % of rosacea patients had experienced irritation after using products that had alcohol.
We also advise you to choose a foundation that is light and can be removed gently upon cleansing. Heavy ones can further irritate the skin since they can block breathability.
To guide you find the right foundation for rosacea, we have listed our top 5 choices for this category.
Product Reviews: Our Top Five Choices of the Best Foundations for Rosacea
Our top choice is the Pure Minerals Foundation Loose Powder.
Both sunscreen elements, namely Titanium Dioxide and Zinc Oxide, are derivatives of natural minerals.
Experts suggest that rosacea sufferers must use a sunscreen every day, regardless of the season. That's because sun exposure could trigger the condition by 61%.
Iron Oxides are responsible for the good coverage of this foundation. These are naturally occurring minerals, which are referred to as non-toxic and gentle.
When these are mixed with Titanium Dioxide, the color becomes more authentic and balanced to promote an even skin tone.
Sericite is natural powdered Mica and is used as a Talc substitute. Research shows that Talc could clog pores.
Nevertheless, that adverse effect is mostly triggered from inappropriate cleansing which causes Talc to accumulate through time.
Upon testing it out, at first, we had a hard time blending it in thoroughly. That's because the powder formulation requires careful layering of the product.
We encourage you to use a suitable moisturizer or primer before applying it so it can stick better.
Our second choice for this roundup of the best foundations for rosacea is the Jane Iredale Mineral Powder.
One of the benefits of this product is that it can help to conceal unwanted redness, as well as the appearance of fine lines.
It contains 14% Titanium Dioxide and 6% Zinc Oxide. Plankton Extract contains antioxidants that could reduce the appearance of wrinkles and fine lines.
It also boasts of fatty acids that can provide long-lasting moisture. Dimethicone serves to form a thin film over the surface of the skin to protect it from free radical damage.
It acts to lock in moisture and thus keep the skin hydrated for an extended period.
One of the things that impressed us with the product was that it did pretty well in blurring the appearance of pores, without creasing.
We would encourage you to use a suitable medium brush or a sponge when applying it for best results.
Also, bear in mind that you may need to reapply some, especially in the case of humidity or given that your skin is more prone to oiliness.
The Shimarz Liquid Mineral Foundation is the next best product on our list.
Aloe Vera is known to be a topical treatment for many skin conditions including the symptoms of rosacea.
It has anti-inflammatory properties to help reduce inflammation and soothe the skin.
It also acts as an excellent hydration agent that provides moisture and relief to irritated skin.
Chamomile Hydrosol makes use of a unique process to unlock the relaxing properties of the herb.
The skin-calming compounds of Chamomile plants are drawn out by steam distillation, which keeps the possible benefits of the extract to the maximum.
Thus, the substance can minimize the redness and decrease swelling of the skin.
It can be a suitable treatment when it comes to acne inflammation, psoriasis, rosacea, eczema, and rashes, among others.
It also has antibacterial properties that can prevent bacteria, disinfect wounds, and relieve itchy skin.
However, bear in mind that it may take some time to dry. One thing that we didn't quite appreciate is that it can be difficult to wash off.
Anyway, using both a washing gel and a light makeup remover can do the trick.
The fourth choice on our list of the best foundations for rosacea is the Bella Pierre Mineral Foundation.
Mica is a silicate mineral that has shimmering properties to create an illusion of a softer, smoother and radiant skin tone. It is mostly used as a pigment in cosmetics.
The finish it can provide is more on the sheer side, rather than being too glittery.
The Titanium Dioxide and Zinc Oxides could protect the skin from both UVA/UVB radiation and environmental pollutants.
While testing the product we had some difficulty trying to get the powder out of the little holes. Anyway, with a little bit of shaking it eventually comes out.
We were satisfied with the coverage, though we would encourage you to use a concealer on dark circles and spots.
It may also cease in wrinkles, so we think it might be better suited for young skin. You may need to reapply some, especially if you have oily or combination skin.
And finally, last but not the least in this roundup is the bareMinerals Matte Foundation SPF.
We like this one because it is a loose powder foundation that is soft and provides smooth application.
Lauroyl Lysine is an amino acid that is derived from coconut oil, which helps to moisturize and lubricate the skin.
It is known for its antibacterial properties that can aid in alleviating inflammation. It also seals moisture in the dry and itchy skin, which is typical for rosacea sufferers.
Besides that, coconut oil is found to be an excellent treatment for Demodex mites. These live in the face and are one of the factors to trigger rosacea.
Meanwhile, the Calcium Silicate is used for an anti-caking ingredient in cosmetics. It also has a capability to absorb water.
After testing it out, we concluded that it conceals imperfections well. But if you have more visible blemishes you want to hide, then its coverage might not suit you.
On the other hand, it is very buildable. In the case you don't mind layering it up, then it might do the work.
The Bottom Line
Rosacea can be hard to handle at times, but we believe it is manageable with the use of suitable products and by attaining a proper regimen.
Our expert advice includes restraining from alcohol, spicy, processed and deep-fried foods.
The cosmetics you choose to apply for your beauty routine need to provide a suitable sun protection, as well as to lack possible irritants.
After being an object of thorough inspection, the Pure Minerals Foundation Loose Powder is the winner of our roundup.
We like that it covers well without looking artificial or becoming cakey. Another significant trait is that it protects the skin from UVA/UVB rays.
Our top choice together with the remaining products on our list of the best foundations for rosacea are all mineral based foundations.
Their blend of active ingredients is tailored not to damage or aggravate the skin. So whichever you might decide to try, we will be more than happy to be of your assistance.