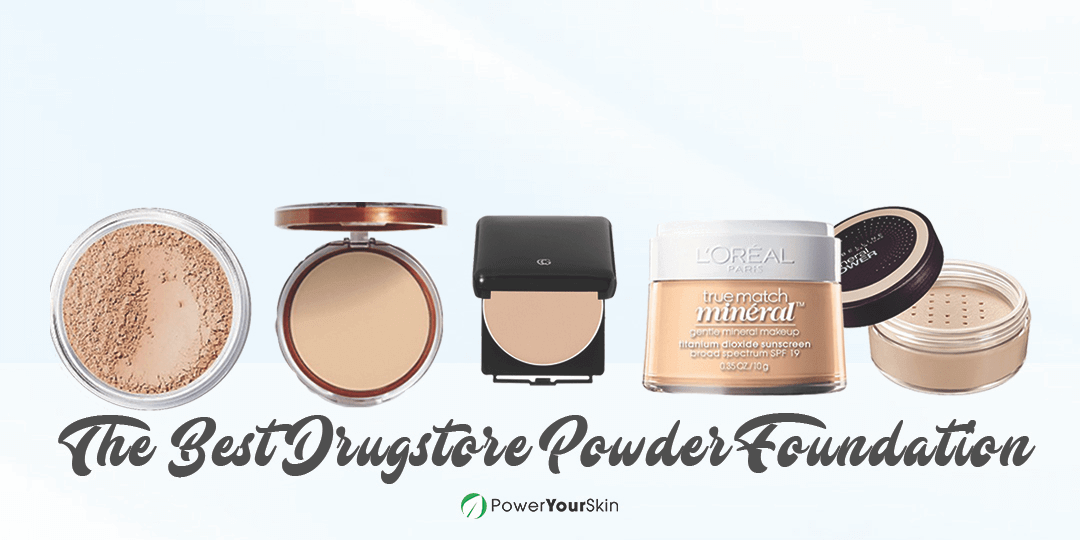 The Best Drugstore Powder Foundation – 2018 Reviews & Top Picks
Powder foundations provide significant coverage in concealing blemishes to leave a smooth, clear, and radiant finish.
But what's more, such products can be beneficial in more than one ways. This particular type of cosmetics can help to promote skin's health, hydration, and protection from the ultraviolet rays of the sun.
To help you with the guidance on choosing the right one, we've carefully picked the top 5 best drugstore powder foundations.
Quick Overview: Our Top Picks for the Best Drugstore Powder Foundation
The L'Oreal Paris True Match Loose Powder Mineral Foundation ranks first in our list. It has ingredients that can help to hide imperfections, while it also aims at diminishing the appearance of wrinkles and fine lines. We were delighted by the way it managed to even out the skin tone without looking cheap or artificial.
The second choice on our list is the Pure Minerals Foundation Loose Powder. It can contribute to a flawless and smooth look that is not only targeted in the short run. We liked the mineral ingredients used in the formulation such as Sericite, Chromium Oxide, and Iron Oxide. What's more, Titanium Dioxide and Zinc Oxide can help to protect the skin from sun damage
The next product on this roundup is the CoverGirl Clean Pressed Powder Mineral Foundation. We liked that there are different formulations designed to address the variety of skin types. Thus, we could choose the one that suits us best and enjoy more lasting and satisfying results.
The Maybelline New York Mineral Power Powder Foundation is our fourth choice. What caught our attention is the smart combination of ingredients which includes Zinc Oxide, Dimethicone, and Aloe Vera, among others. Zinc Oxide can help us fight free radicals, while Dimethicone serves to smooth and even the skin without a greasy residue.
Finally, we have the CoverGirl Simply Powder Foundation. We liked that this product is buildable and can be used both as a foundation, and loose powder. It was also easy and handy to carry it around and do some minor touches when needed.
Powder Foundation and Skin Type Suitability
Foundation comes in different forms. It may be a cream, liquid or powder liquid. Whatever type you choose, it could improve the appearance of your skin.
It has become one of the most popular beauty staples. You can decide to apply every day or when going to an occasion.
Thus, your skin blemishes, flaws and the signs of aging can be concealed. On the other hand, you just need to select the right foundation based on your skin type.
In case you opt for a drugstore powder foundation, you need to consider two things. First, you must know what it can provide for you as well as what skin type it is best for.
Powder foundation is known to imply a sheer and natural coverage. It can be easily reapplied since it's just similar to a face powder.
So, what skin type is the powder foundation most suitable for? This kind of foundation could best fit those who have oily skin, normal or combination, and acne prone skin.
Powder foundation has oil-absorbing properties that can lessen the shine during the day.
The pore clogging effect is also lessened because it is mostly free of emollients or too many oils.
And that is exactly what makes it a good match for those with acne prone skin. In the case that you have dry skin, you may choose a hydrating powder foundation.
Nevertheless, we do not recommend it for daily use, as your skin type needs more moisture compared to others.
However, on our list of the best drugstore powder foundations, some products can hydrate the skin besides having good coverage.
What to Consider When Choosing the Right Drugstore Powder Foundation?
Cosmetics work well to improve the overall appearance of an individual. On the other hand, you must choose the right products that can complement your uniqueness.
That is particularly the case when you are opting to buy or use a drugstore powder foundation.
There are some things you might want to consider. Our tips and advice include the following:
First you need to know your skin type, as mentioned above. That's because you will know the right powder foundation based on its ingredients.
Another thing is that most powder foundations are suitable for oily, normal or acne prone skin.
However, don't be alarmed because there are powder foundations that are also created to address dry skin.
Once you know your skin type and the right formula for your condition, you have to find the correct shade.
To determine it, you may test the foundation against the right part of your body.
It is best to match it in your jawline not on your arms or hands because they have different colors than your face. The jawline is the right part for a color-match.
The foundations have many undertones. The main are yellow, pink and neutral, among others.
It is advisable that you know your undertone. Despite that, if you are shopping online you cannot test it.
Experts share this handy guide for you to find your undertones.
1. Provided you have a pale complexion, opt for a yellow undertone.
2. Fair skin is best accentuated with a pink undertone.
3. The Light/Medium is for the medium complexion with a pink undertone.
4. As to Medium, it has a neutral undertone - neither pink or yellow
5. And finally, dark complexion has a neutral undertone.
Of course, it is always good to remember that even if you don't succeed to find the absolute match for your skin, you can always get creative.
Try to mix up the foundation with some other ones that you already have in your drawer.
You can be surprised to attain a color that could be even better than what you hoped for.
Product Review: Our Top 5 Choices for the Best Drugstore Powder Foundations
Our top choice for the best drugstore powder foundation is the L'Oreal Paris True Match Loose Powder Mineral Foundation.
It was nominated by makeup.com in the Top 3 2016 as Best Drugstore Foundation.
It comes in different shades that can help to create an even color according to our complexion while concealing imperfections.
What we liked so much is that it can assist in softening the skin.
Also, the added Titanium Dioxide could protect the skin from the damaging effect of the ultraviolet rays.
Boron Nitride is a chemical compound that is composed of boron and nitrogen. It acts as a lubricant and an optical diffuser.
It could absorb excess oil in the face and dissolve pigments in an even manner. It has light-scattering properties that could produce a shimmery and translucent finish.
This particular trait makes this foundation effective in the concealing of wrinkles and fine lines without the cakey look.
We also appreciated the fact that the product can be suitable even for sensitive skin.However, if you have dry skin, we do not recommend using this particular product.
Our second choice for this roundup is the Pure Minerals Foundation Loose Powder.
It can protect us from the sun damage with natural compounds such as Titanium Dioxide and Zinc Oxide, which could help to leave the skin healthy as well.
Iron Oxides are derived from naturally occurring minerals. They come in shades of black, orange, red and brown to provide pigmentation to the products.
Sericite is a type of mineral that is a fine grained Mica. It creates a silky shine and is used as talc substitute.
This mineral is suitable for light to medium foundations, in which it won't clog pores. That feature can make this product a good match for acne-prone skin.
We included this product on our list because it has excellent coverage. It can also remain even when one is sweating.
We were delighted to find out that this loose powder foundation is free from Talc, Parabens, or Dyes. It relies on a simple, yet effective formulation instead.
The CoverGirl Clean Pressed Powder Mineral Foundation is the third choice of our list for the best drugstore powder foundations.
We loved how it can help to clear pores and lessen the acne breakouts.
The non-comedogenic ingredients can help to break down the excess oils on the skin. On the other hand, it won't remove the moisture and nutrients the skin needs.
As our previous choices for the category, this one also boasts of Titanium Dioxide, which is known to reflect the UV light before it damages the skin.
The Oat Kernel Flour is rich in active components, such as phospholipids, phytosterols, and essential fatty acids.
It has anti-inflammatory, antioxidant and moisturizing properties. It can help to smoothen and nourish the skin.
However, if you have oily or combination skin, this might not be the best match for you.
Even though the effect is lasting, this might not work for your skin type, and you may need to reapply it to keep the greasy residue at bay.
The next product on this roundup is the Maybelline New York Mineral Power Powder Foundation.
Aloe Vera contains many vitamins and minerals that can protect the skin from free radicals which trigger premature aging.
Furthermore, it is valued for its anti-inflammatory properties and ability to soothe irritated skin.
It can help to rejuvenate aged tissues as well as to provide natural protection from the ultraviolet rays by up to 30 percent.
On the other hand, the powerful trio of Dimethicone, Panthenol and Vitamin E can serve to provide the skin with moisture.
What we loved about this combination is how first Panthenol and Vitamin E work to supply hydration, while Dimethicone aids to trap the moisture in.
One of the downsides we found is the brush, which was thick and messy. We recommend you to use a light hand, or it may lead to redness.
That can be a suitable product even for people with dry skin. However, we still encourage you not to skip on the proper moisturizing cream.
The CoverGirl Simply Powder Foundation is our fifth choice for this category. We liked that it felt light on the face and had good coverage.
Octyldodecyl Stearoyl Stearate is a skin conditioning agent. It slowly prevents water loss from the skin by creating a barrier on the surface.
It also augments the thickness of the lipid oil part of cosmetics. This component is derived from the fatty acid, a stearic acid found in vegetable and animal fat.
Dimethicone is often added in cosmetic products. That's because it could provide a protective cover on the skin and keep the moisture intact.
Thus, it helps the skin stay hydrated for an extended period.
It also targets on filling uneven texture and fine lines by creating a subtle film over the skin. What we can get is a visibly smooth and young-looking skin.
Nevertheless, we seemed to notice only a light coverage with this product. So if you want to conceal some more visible blemishes, this might not be the best option for you.
The Bottom Line
The winner of our roundup of the best drugstore powder foundations is the L'Oreal Paris True Match Loose Powder Mineral Foundation.
We were impressed with the great coverage and the way it blended well with the skin tone.
Besides that, it has ingredients that can soften the skin contributing to our youthful looks. We also appreciated that it could be suitable for sensitive skin.
We find our top choice, as well as the other products that made it to our list efficient in concealing skin flaws.
All of them have natural sunscreen ingredients such as Titanium Dioxide, Zinc Oxide, or a combination of both.
While we were evaluating and choosing the top 5 products for this category, we were looking for something that can help to make the skin flawless not only in the short run.
We believe that it is our responsibility to stay informed of the effect of various ingredients.