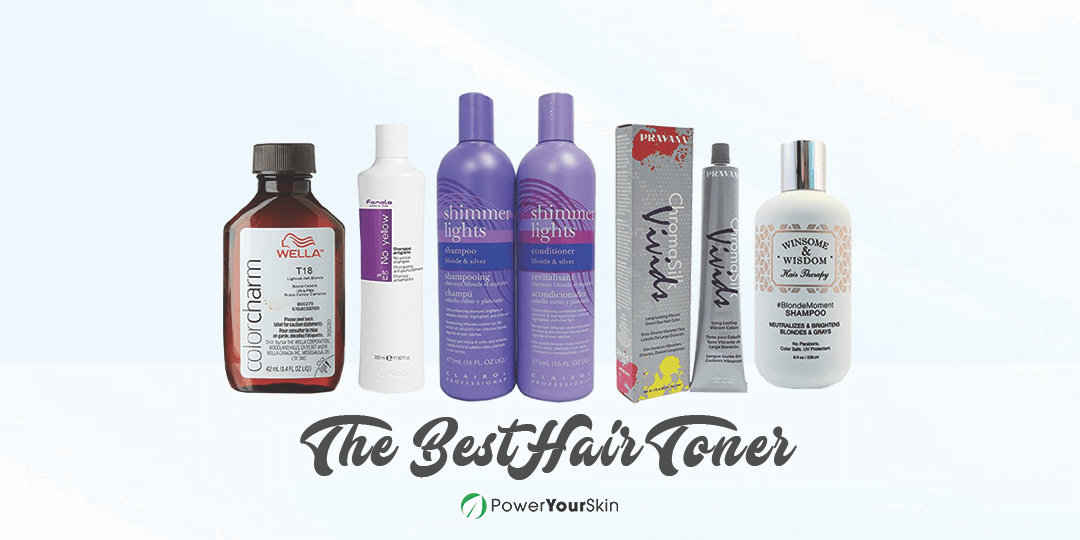 The Best Hair Toner – 2018 Reviews & Top Picks
Throughout the centuries, hair has gained a reputation for the most feminine and powerful secret weapon of girls all around the world.
Many Ancient folks believed that the hair is a sacred part of the connection between an individual and the higher powers of nature.
Since hair is the frame of our face, we think it has to be celebrated with care and respect. That is especially when it comes to color treatments.
We have compiled a list of the five top products for toning, that can help to reveal an even, natural and stunning shade.
Quick Overview: Our Top Picks for the Best Hair Toner
Our top choice for the best hair toner is the Pravana ChromaSilk Vivids. What caught our attention about this product is that it can provide us with long lasting and visible results. While it is a semi-color dye, it turned out to be efficient in becoming a potent toner when diluted in some water or conditioner.
The second product that made it to our list is the Clairol Shimmer Lights. We enjoy the pack that consists of a shampoo and conditioner which are developed to assist for an even platinum shade. The duo can be especially beneficial if you struggle with the oiliness of the scalp.
As to the third spot on this roundup, it goes to the Fanola No Yellow Shampoo. It is created to help us reveal a beautiful hair color, deprived of the unwanted warm shades, exactly like its name suggests. It was one of the toners that left us with the most pleasant after-scent.
The number four product on our selection is the Wella Color Charm T18 Lightest Ash Blonde Toner.We like how this toner can target brassiness while at the same time it is designed with Oleic Acid. This particular acid can play a significant role in moisturizing, fighting dandruff as well as boosting hair growth.
We have decided to put the #Blonde Moment - Purple Shampoo on our fifth position. To be honest, it was tough to rank this product last. It is developed to be extremely gentle on the hair and includes no added preservatives to its formulation.
Hair Porosity
Hair toners are a precious chain of the haircare routine. They can help to even out porosity. There are two major types of this condition: High and Low porosity.
1. High Porosity
If you happen to suffer from high porosity, then your hair cuticles are prone to breakage, gaps and damage.
These can create an adverse effect by allowing moisture to flow through. Thus the hair structure lacks retention. And the results are frazzled looks caused by overall dryness.
2. Low Porosity
However, if you are in the case of low porosity, your hair cuticles are most probably lying flat and tight around the cortex.
This can block conditioning oils of delivering essential nutrients, as well cause a significant moisture resistance.
On the other hand, the products that you use tend to build up much easily considering the low porosity factor.
But this can make the hair look brittle and dry. You should also bear in mind that the sensitivity towards proteins is much higher in such cases.
So try to avoid them when choosing a suitable product.
Hair Health and Food
An interesting part about hair itself is that its beautiful appearance is often linked to food as much as to cosmetics.
You may want to make sure you take up to 12 glasses of water per day. Just imagine your body, consisting of at least 50 % of this life-sustaining substance.
If you are a fan of fast foods, be on the watch that they are not your hair's best friends. Excessive sugars and oils in the diet can cause you hair loss, due to the massive waves of insulin that can disrupt your hormones.
On the other hand, you can support your inner beauty to glow by including fresh vegetables and fruit to your regimen.
If your diet is poor in protein, your body will start to ratio the protein you already have. This statement is according to research conducted by the American Academy of Dermatology.
During this process, your systems assume that there is an insufficiency of this essential element.
So while trying to limit all the potential leakage of protein somewhere in the organism, the hair growth gets limited. And as a consequence, unpleasant hair loss can begin.
And even though these tips and advice can be useful enough to retain a shiny, thick and gorgeous hair, we still have a few words to add up about toners.
While you have already struggled to achieve the perfect color that can compliment your vision, we know fair well how maintenance isn't less important.
Benefits of Using a Hair Toner
In fact, if you are trying to get an effect that is deprived of coppery, red or yellow-orange tints and hues, a toner is almost a must.
Usually, toners are shampoos that have a purple or blue base. Purple is opposite to orange on the color wheel.
And this is the exact thing that stands behind these original products. They can work to cancel out the unwanted nuances by helping them become more on the silvery side.
We do like toners for another particular reason. They can contribute to blend in highlights better, so we can enjoy a more uniform appearance.
The best highlights are of course those with a smoother transition from the roots to the ends. By choosing a good toner, you can be able to add another level of multi-dimensional tones.
And last, but not least is that toners can help to seal the color and thus lock it looking vivid for a longer period.
There are different forms of toners you can apply, but the most common is shampoo. You may also try a conditioner or a semi-color dye that can be diluted in water or another conditioner.
To save you some time and to guide you through the comprehending of labels, we have compiled the top five best hair toners.
Product Reviews: Our Top 5 Picks for the Best Hair Toner
The Pravana ChromaSilk Vivids is our top choice for the best hair toner. Our experience with this product was very satisfying.
While it is referred to as semi-permanent dye, we found out that it can work great as a hair toner.
To use it as a toner, you have to dilute it in conditioner. The ratio that we implied was 1:1, but you may choose to try the 1:2 ratio as well.
For the beginning, we encourage you to reduce the color abilities of the product by adding one part of it to 2 equals conditioner.
You may also want to utilize water instead of conditioner. Or you can put it to your shampoo so you can enjoy a more smooth and light effect of the toning.
Our advice is to avoid water exposure and limit your time in the shower, as well as the use of warm water. These can cause the color to fade much more quickly.
For the next spot on our selection, we have chosen the Clairol Shimmer Lights.
We are eager to share with you a little trick we found out when using the shampoo. If you want to achieve an enhanced and deeper purple-silver nuance, you might try a simple hack.
All you need is a lemon. You can slice it in half and put it in your hair before you apply the shampoo.
The citric acid that lemons contain can help to improve the absorption of the product. As a result, the final color that is revealed can be thoroughly deprived of any unwanted shades.
We appreciated the added Glycerin. Its possible benefits for the hair are no less than these for the epidermis.
You can enjoy a healthier, moisturized hair that can grow longer with the assistance of this important compound.
However, if you overuse Glycerin in you hair care routine, you may end up with a waxy appearance. Since toners tend to be more drying, this is not the case with Glycerin here.
Ranked third on our roundup is the Fanola No Yellow Shampoo. One of the main features which we considered great about this product is that it is very pigmented.
This means that you can be able to experience a full coverage of the undesired tones. Meanwhile, we noticed that we had less trouble related to uneven distribution.
The shampoo contains surfactants as its main ingredients. They can help to cleanse the hair deeply as accumulated oils can stop the penetration of products.
Thus, it can be ready to absorb the color much better.
These elements also create a nice foam, which is why this shampoo can provide a pleasant lather.
One of the things that impressed us is that this product lacks any oxidizing ingredients.
Thus, it helps to change the appearance of the color only cosmetically, without altering the hair structure.
While the Wella Color Charm T18 Lightest Ash Blonde Toner might be the fourth product on our list, we have to admit that we became pretty fond of it.
Oleic Acid as part of the formulation is one of our favorite compounds. It boasts a whole range of benefits for the skin, hair, and body.
It can help by locking the water inside the cuticle to provide high moisturization. It can further repair damaged follicles and even aid in fighting dandruff.
The Ascorbic Acid is another ingredient which we considered significant to this product's compound.
When our body turns food into glucose for energy production, free radicals are formed. This process might be natural enough, but it can lead to thin, brittle and weak hair.
Vitamin C can reduce the oxidative stress and thus intensify the hair growth.The only downside that we experienced is that this product tends to dry out the ends.
Last but definitely not least on our selection of the best hair toners is the #Blonde Moment - Purple Shampoo.
Among our favorite features of this product is that it relies on a more balanced and natural formula.
An interesting part of its composition is Titanium Dioxide. It can increase the opaqueness, as well as to reduce the transparency of the products in which it is implied.
This naturally derived element can also help to block ultraviolet rays that can be extremely damaging for hair. It can reflect, absorb and scatter the light.
This particular trait can become potent in delivering you with beautiful purple-silver hues that tend to mirror the color in a very unusual manner.
Mica is another fantastic agent that can enhance the power of this toner's formulation. Mica is a group of minerals that are widely distributed in different rocks.
It can impart a white and sparkly appearance to the products and thus assist you in gaining brilliant shimmering hair tones.
The Bottom Line
The clear winner of our selection for the best hair toner is Pravana ChromaSilk Vivids.
While we like all the products that made it to our roundup, this one seemed to answer most efficiently the criteria we used for creating this list.
Through its active and well-combined ingredients, it can address both hair porosity and brassiness.
It is also the product that is most concentrated among all the others since it is a semi-permanent dye.
It comes in eleven great colors that you can choose to dilute in some water, conditioner or shampoo to achieve the best shade for yourself.
The inclusion of Keratin makes it possible to treat frizzy, damaged, and dry hair for added smoothness and shine.
We have put all our knowledge and expertise to narrow down our list to the five top hair toners that can help you get the exact results to suit your unique needs.