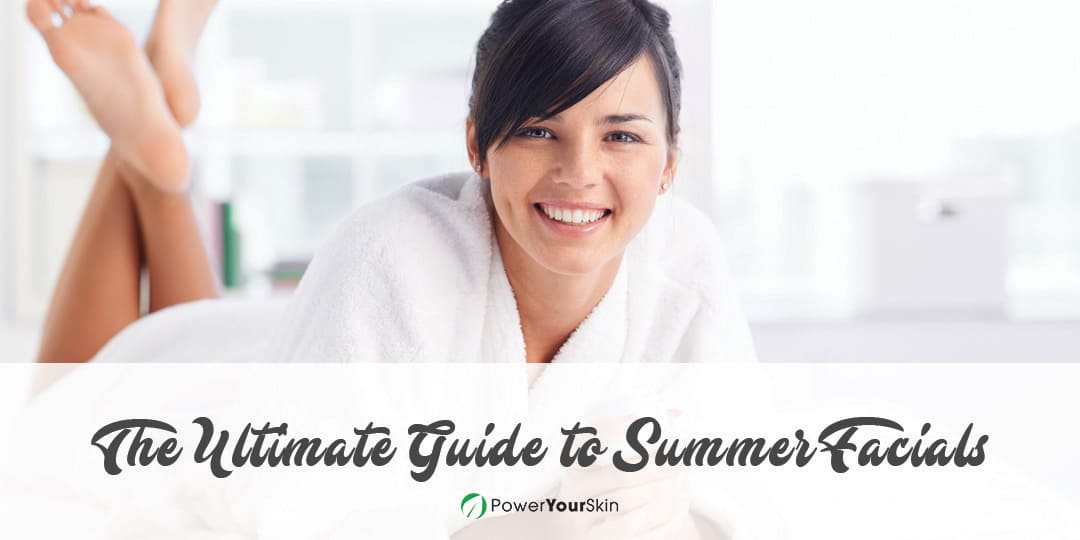 You have probably noticed that the changing of the seasons can really affect the quality of your skin.
In the winter, it may be feeling drier, flakier and duller than usual, while the changing of the seasons into summer can also confuse your skin enough to have it looking less than its best.
While facials are beneficial for you throughout the year, they are especially wonderful at the beginning of the season to assist your skin in rejuvenating and invigorating itself.
Ready for better-looking skin? Here is the ultimate guide to summer facials.
What are the benefits of a facial?
Before you make an appointment, you are going to want to know what exactly are the benefits of having a facial.
As it is a multi-step skin treatment, having a facial means your skin will be cleansed, exfoliated and nourished.
This, in turn, ensures your skin has a smoother texture and is adequately hydrated. Facials lead to a more glowing complexion, fewer breakouts and firmer skin. What's more, they also help your skin look younger.
In other words, they can perform miracles.
That being said, a facial is most effective when it is a regular part of a thorough ongoing skin care routine.
What should I expect during a facial?
If you have never had a facial before, you may be wondering what you are getting yourself into. Here are the steps of a facial to give you a clear idea:
1. Meeting
First and foremost, you will meet with your esthetician for a meeting. During this time, you will discuss the concerns you have regarding your skin, and you will provide her information about your diet, how much water you drink, whether you are taking any drugs or supplements, and the skin-care products you are currently applying.
2. Getting ready
Before you start the process, your esthetician will provide you with a wrap that goes around your body and underneath your arms, and fastens.
Some women choose to get completely undressed, others leave their bottoms on, while others feel more comfortable keeping everything on.
If you are unsure of the protocol, ask your esthetician. Ordinarily, your esthetician will also wrap your hair in a towel or with a headband to ensure that no product gets into it.
3. Consultation
Once you are settled and feeling comfortable, the esthetician will examine your skin with a magnifying lamp to assist her in ascertaining your primary skin type and skin requirements. With this knowledge, she will be able to choose the appropriate products and treatments for the facial.
4. Facial time
Then the facial can begin! The first step is to completely cleanse your skin (most professional facials will incorporate a double-cleanse) with cotton pads or sponges.
Next, it will be steaming time. Utilizing a device that sends a small mist of heated steam to your face, the steam helps to soften up your skin for the later stages. And, this is one of the most relaxing and enjoyable parts of the process.
After the steam, it is time for your skin to be exfoliated. Generally, a facial will use either mechanical or chemical substances during this part.
The rough texture of a mechanical exfoliant scrubs away your dead skin cells (and may happen during the steam). On the other hand, chemical exfoliation employs enzymes and acids which release the connection between skin cells.
Additionally, you may opt for a more potent chemical peel, which can be a stand-alone treatment or part of the facial.
Now it is time for the extractions, which consist of removing any blackheads or whiteheads you have. Some people find this part to be painful, so speak with your esthetician before agreeing to it.
You also want to make sure that only a highly qualified esthetician is doing your extractions because, if done improperly, they can create broken capillaries and discoloration.
Next, they will apply a facial mask that is especially suited for your skin type (dry, oily, combination, sensitive, mature) and the condition that it is in.
During this time, your esthetician (if they are professional) will stay and give you a head massage or some other extra treatment.
After the mask, your esthetician will conclude by using toner, serums and moisturizer.
5. Home skin care routine
Your session will end with a conversation about your day-to-day skin care routine. One of the benefits of regularly seeing an esthetician is that she will also prescribe you an at-home skin care routine and recommend products that will work expertly for your particular skin.
You should undoubtedly follow her advice and commit yourself to maintaining the regime. Is it unpleasant?
There is no denying that while facials can be relaxing, there are still some moments that will be slightly uncomfortable.
Most commonly, the extractions can be somewhat unpleasant as this is when your esthetician is deep cleaning your pores. However, you (and your skin) will be thankful that it has been done afterwards.
Additionally, for about a day after your facial, you may experience some redness. This is entirely normal, and it will go away within 24 hours.
If you are prone to breakouts, then you may have to wait several more days for a complete healing, but over time your skin should improve with regular facials.
What type of facial should I get?
There are so many varieties of facials offered on the market that it can be overwhelming to know which one you should book. Before you decide, you should ascertain what exactly your skin requires.
Before the summer months, you may feel that your skin is dehydrated from the changing temperatures.
Or, perhaps, you want to target your adult breakouts, slow down the visible signs of aging, or simply give yourself a boost before your summer vacation. (We all have to treat ourselves sometimes!)
Once you know what your skin requires, you can then set about finding a treatment that targets those concerns.
Generally, during the summer months, it is more crucial for people with oily skin to get facials as wearing sunscreen and sweating in the heat can cause a lot of problems.
However, no matter what type of skin you have, facials can prevent problems for all. Some of the most popular summer facials include:
1. Dermalogica Purifying Facial
Particularly suited for those who suffer from frequent acne or breakouts, the Dermalogica Purifying Facial is a medicated and deep cleansing facial that works to clear blemishes and breakouts, control sebum production, and repair and smooth skin texture.
You are likely to see clearer skin after just one treatment; however, it is recommended that you have a course of six treatments (one every 1-2 weeks) and then monthly maintenance after.
2. Dermalogica Ultra Calming Facial Treatment
If the changing of the seasons is making your skin go crazy, the Dermalogica Ultra Calming Facial Treatment may be the one for you.
This much-loved facial treatment brings genuine relief for sensitized skin, and it works to soothe, relieve and replenish the most provoked, troubled and inflamed skin.
As its purpose is to battle the actual causes behind your redness, itching and stinging, it will help improve your skin health in the long run.
Even if you have incredibly sensitive skin, this treatment can work for you, as it can be adapted to your needs.
- Guinot Hydradermie Treatment "Double Ionisation"
Praised for being a technologically advanced skin care treatment, the Guinot Hydradermie Treatment "Double Ionisation" is a high-level method that utilizes a galvanic current from the Guinot machine to boost the diffusion of both positive and negative ions.
This procedure endeavors to fix skin difficulties from the inside.
The specialized products that are used during this facial will thoroughly cleanse and re-hydrate your skin down to the most buried layers, while the high-frequency action will oxygenate and energize your cells.
Guinot has developed a distinct gel serum for each skin type, meaning everyone can experience the benefits of this incredible customized treatment.
3. Guinot Beauty Neuve
Exactly what you need over the summer months, the Guinot Beauty Neuve treatment uses radiance-enhancing rich ingredients (such as fruit acids and vitamin C) to eradicate dead cells and lighten and brighten your skin.
If you are suffering from dull, oily, or marked skin, this facial can help, as it uses a deep exfoliator and anti-pigmentation ingredients to eliminate dead skin cells, unclog pores, decrease lines, and dim brown spots.
And, it ends with a pure vitamin C masque, to ensure you leave the salon with the brightest, most balanced complexion possible.
How do I make the benefits of a facial last?
Getting a facial is akin to investing in your skin, and so you want to make sure you are making the benefits last as long as possible.
Ideally, make appointments to see your esthetician once a month, and in between appointments, follow her recommendations for a thorough skin-care routine.
There is no point paying for facials if you then forget to use a cleanser, toner, serum and moisturizer each night. And, naturally, never sleep in your makeup.
Have you ever gotten a facial? What benefits for your skin does it provide? Let us know in the comments below!
AUTHOR BIO
Hillary Kozma is the Owner/Managing Director/Creative Director of Kozma & Kozma Salon. Having built the foundation of her skills with an apprenticeship under a direct protege of Vidal Sassoon, Hillary and her husband opened Glow American Salon in Qatar in 2007 before expanding to Dubai as Kozma & Kozma in 2016. Hillary is hailed by the media as a "pioneer in her field" for introducing new talents, concepts, philosophies, and techniques to the Middle East.